Jon Sumrall is not leaving the Kentucky cupboard bare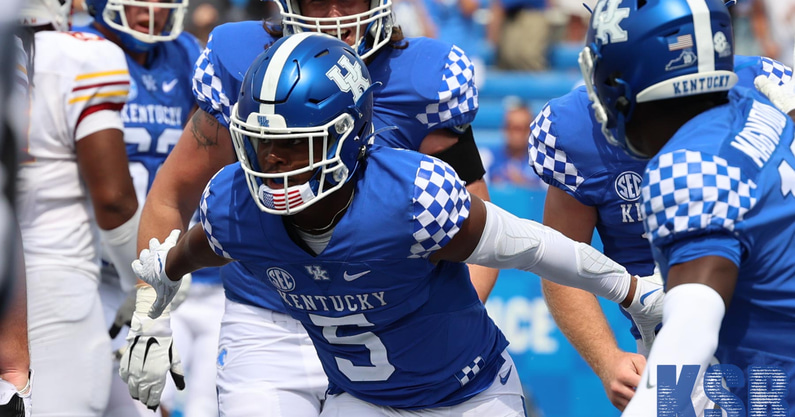 A Kentucky assistant is on the move. Jon Sumrall has risen through the ranks and is leaving Lexington to become the next head coach at Troy. A former linebacker for the Wildcats, Sumrall is departing on good terms with a wealth of resources for his successor.
Still Recruiting for Kentucky
Sumrall's recruiting chops quickly came to light in Lexington. The Kentucky assistant pulled out the rug from Lane Kiffin's feet just days after he was hired to be the Ole Miss head coach. Kiffin expected to receive a commitment from the state's top defensive lineman. Instead, Josaih Hayes committed to Kentucky. Hayes was the first of almost a dozen impact players Sumrall helped sign at Kentucky.
The ties Sumrall has in South Georgia and Alabama will not be immediately severed between his targets and the University of Kentucky. In fact, he will still be on campus recruiting on Kentucky's behalf this weekend before he is introduced as Troy's head coach this Monday.
Wide receiver Jordan Anthony appears to be rock solid in his commitment to the Cats. A few appearances by the outgoing UK assistant coach might be enough to convince defensive lineman Quentel Jones to commit before he leaves Lexington.
There's one more talented player Sumrall teed up to potentially join Kentucky's talented recruiting class prior to his departure. Ja'Kobi Albert committed to Auburn in August, but Kentucky has not stopped recruiting the talented Alabama athlete. A defensive back and wide receiver, Liam Coen and Scott Woodward can close the deal by pitching Albert as an offensive weapon at an official visit next weekend.
If you were worried about losing players following last night's news, don't. If you are worried about next year's linebackers room, don't.
Deep Linebackers Room
Unexpected attrition could have completely depleted Kentucky's inside linebackers. Instead, it has been a position of strength and next year it might be the deepest position group on the team.
DeAndre Square and Chris Oats were prepared to star for the Cats in Sumrall's second season leading the linebackers. An offseason stroke sent the group reeling emotionally and left an enormous vacancy in the middle of the defense. The linebackers rallied around Oats and Jamin Davis developed into a first round pick.
Davis' meteoric rise up draft boards left another unexpected vacancy. Once again, a hard-hitter from South Georgia answered the call. D'Eryk Jackson was poised to become Kentucky's starting middle linebacker when he suffered a torn Achilles in the spring. Searching for bodies, Sumrall went to his old stomping grounds and recruited Ole Miss' linebacker Jacquez Jones from the transfer portal. Jones proceeded to lead the team in tackles and record the game-clinching PBU against Florida.
Whoever is tasked to replace Sumrall will likely inherit a room of veterans and a couple rising stars. Announcements will wait until after the bowl game, but most believe Square and Jones will return. Jackson is already healthy enough to lead the team in tackles vs. Louisville. True freshmen Martez Thrower and Trevin Wallace have bright futures. It took Wallace less than a month for the former Top 50 recruit to etch his name permanently into UK football folklore.
Stoops found the perfect fit when he hired Sumrall to replace Matt House following the Wildcats nine-win 2018 regular season. Replicating that success will not be easy after another nine-win season, but Sumrall has set up the next UK linebackers coach to succeed.