Meet the Rookies: Jordan Anthony Makes Early Sacrifice For the Team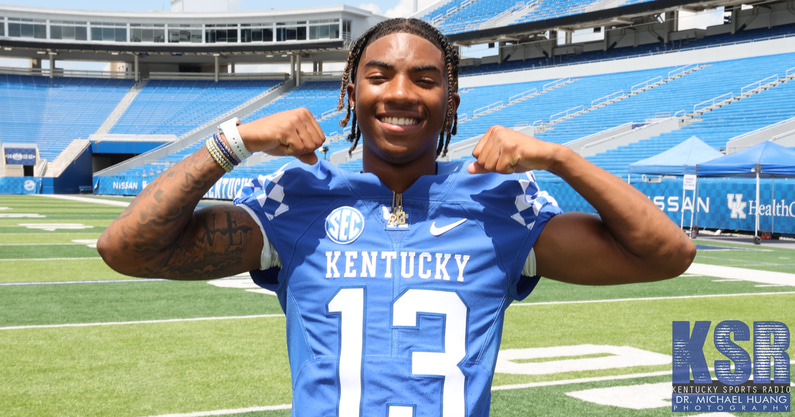 Jordan Anthony is one week into preseason practice for the Kentucky Wildcats. That was not the talented freshman wide receiver's initial plan.
The pass-catcher is also a track star, and an accomplished one at that. This summer he won a National Championship. Anthony earned a gold medal at the USA Track and Field U20 Championships when he ran the 200-meter dash in 20.35 seconds. Not only did he get a medal, he qualified for the World Championships in Colombia. Instead of traveling to South America for a week, Jordan Anthony reported to the first day of Kentucky football fall camp.
"It just says where his head is at," Mark Stoops said at UK Football Media Day. "I want the best for the young man. He's special. Elite speed. In this world now with name, image and likeness and a lot of things, he's leaving a lot on the table by staying here and being with the team. We appreciate it and want him to do what he wants to do and want him to get the work."
"I would have ran, but I decided football is more important to me right now," Jordan Anthony shared with KSR. "Getting into this offense, Coach Stoops said he wants fast, so I want to be the guy."
Jordan Anthony: "Fastest Kid in America"
Before stepping foot on campus, his track and field pedigree put him on notice. He quickly (no pun intended) lived up to Will Levis and Tayvion Robinson's lofty expectations. "He's insanely fast," Robinson said.
Jordan Anthony has also been fast to form bonds with his new teammates. His roommate is Kobi Albert, a four-star defensive back that was a significant signing day win for the Wildcats over Auburn. Anthony reaffirmed Albert's decision to come to Kentucky.
"We're real close. We do stuff together sometimes," Albert old KSR. "He's like my brother. It's like having my brother away from home. For the most part we're clicking, spending time together and it's keeping my mind off being homesick."
Often tasked to cover his roommate, Albert can confirm Anthony is in fact fast. "REAL fast."
Slow Starter
Despite all the speed talk, that has not always been the case for Jordan Anthony. "It's weird because I didn't have this hype at first. I started off as a slow kid, with 4.6s," the freshman shared with KSR. "My body finally developed so now I'm running crazy."
Despite that growth spurt, he still has a small frame. Kentucky lists Anthony as 5-foot-9, 155 pounds. The Tylertown, Miss. native has a lot to learn about the wide receiver position in Rich Scangarello's complex offense. He'll have a couple of challenges to overcome in fall camp to see some early playing time, but DeVonta Smith taught us a valuable lesson in 2020: you can't coach speed.
"You can be fast, but I'm world class fast," said Jordan Anthony.
Previous Editions of Meet the Rookies: Barion Brown, Alex Afari