Buzz is building at Kentucky for safety Jordan Lovett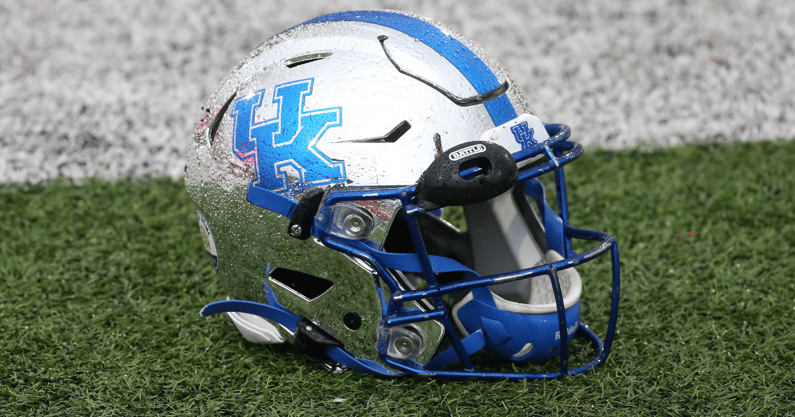 In Saturday's open spring scrimmage at Kroger Field, Kentucky's offense created a ton of buzz. Will Levis looked very sharp as new offensive coordinator Rich Scangarello appears to have a unit that could make some noise this fall. However, a young defender might have made the biggest impact.
After making some noise earlier in spring camp, Jordan Lovett looked like a potential contributor as a true freshman. The Radcliff (Ky.) North Hardin product led the team in tackles (9) to go along with some ball production as the 6-foot-2 defensive back passed the look test.
Head coach Mark Stoops appears to believe that the second-year player can be a contributor for the Wildcats in 2022.
"He's a very athletic guy," Stoops told reporters after the spring scrimmage. "I have high expectations for him. These kind of situations really help him because it's time for him to get very serious about the game and continue to really study and get quality reps out there because he has the ability. We need him to step up and be a player for us. I think he needs to continue to mature and continue to approach the game in a serious nature. And if he does that, he'll make some really big strides before next fall.
Currently, Tyrell Ajian and Jalen Geiger are considered the starters for the Wildcats at safety. Over the last three years, Yusuf Corker manned the free safety spot and was often called upon to roll down into the box to give Kentucky another run support player. Corker packed a punch as a tackler and had some sudden speed to close in short areas. Lovett appears to have a similar skill set.
"He plays 100 miles an hour, which I love. He's a reckless abandoned type player. If you blitz him, he might be lower than the linebackers when it's blitz time. And you know what? I'd rather that and then pull off, rather than be late and slow," defensive coordinator Brad White said about Lovett earlier this spring. "When he goes, he goes, right, wrong or indifferent."
As a high school standout at North Hardin, Jordan Lovett flashed some legitimate playmaking production. As a junior, the defensive back led the state with 15 interceptions in his first season playing safety. The next year, Lovett developed into a more well-rounded player. The in-state product would eventually pick the Wildcats over Louisville, Missouri, and West Virginia. After one year in the program, he's starting to catch eyes and create some buzz within the Kentucky football program.
"I like how even if he doesn't know everything, he still tries. It's an effort thing with him. He's a high effort guy He's not always right technically, but he shows a lot of effort," said super senior linebacker DeAndre Square. "You can fix the MAs (missed assignments), but you can't coach effort."
Effort is a skill, and Lovett possessed that valuable asset. When on the field, the redshirt freshman pops and has the required traits necessary to be an effective safety in the SEC that brings physicality into the box and athleticism into coverage.
"I think everybody feels him on the field," White said on Saturday. "He plays hard, he runs around, he plays with effort and he can just keep going."