Freddie Maggard: Why Kentucky Edge Jordan Wright is "My Guy"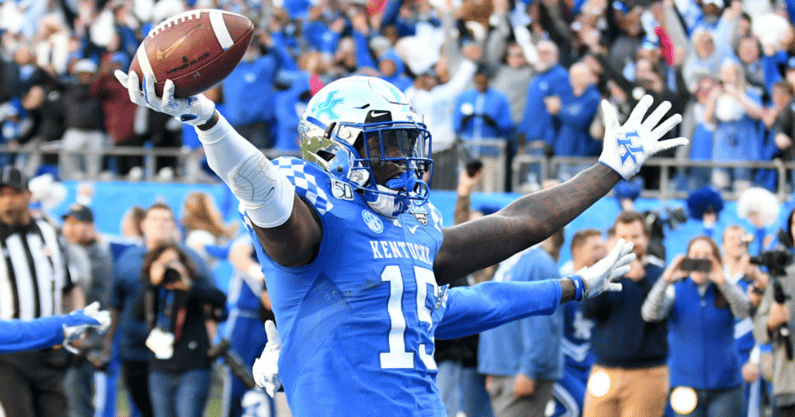 I give up. I once aspired to be a Pro J or professional journalist. That goal has been tossed to the side after watching my Media Day videos. Listen, I've known Jordan Wright for six years now. I was a part of the staff that recruited a class to the team. I've covered, followed, cheered for, and worked with UK players for a while now. I've developed relationships with some of them over the course of time. I cherish that. Now, I'll call it like I see it and harshly critique when the occasion calls for observational analysis; however, I don't apologize for caring for these players on a personal level. That probably breaks every journalism rule in the book. That's ok. I'll keep on keeping on until Tyler tells me otherwise. Anyway, I digressed. Back to Jordan Wright. 
Wright's decision to return for a super-senior season was vital for coordinator and position coach Brad White. As you can see in this video, the Edge defender is an experienced veteran that has taken the younger players under his wing. He and JJ Weaver combine to give the Cats an explosive playmaking duo on the outside. 
The 6'5″, 235 lbs. Wright was a star basketball player in high school. It took him a while to get the hoops out of his system. But once he did, the South Florida product took off. He's played in 42 games including 12 starts. He's totaled 106 career tackles with 15.5 tackles for loss, 7.5 QB sacks, 12 pass breakups, 4 forced fumbles, 4 fumble recoveries, and 6 QB hurries. In other words, Wright is a big-play defender that can change the course of a football game. A college graduate, Jordan is seeking his second degree and dialed in on a senior season that could catapult him into NFL Draft contention. 
Wright has always been one of my favorites off the field. I really appreciated seeing him again on Wednesday. His smile and positive energy are infectious. He lights up a room. I enjoyed spending time with him. I'm hopeful that he can play a full season without injury. The Cats need him to be that "Dude" on passing downs. 
Kentucky is likely to play more base defense (3-4) due to Wright's return. I expect to see both him and Weaver on the field at the same time which gives Brad White two explosive pass rushers at his disposal. Weaver and Wright are long, athletic players that can be utilized in a plethora of ways to create havoc in opposing backfields. They can also drop into pass coverage. 
I hope you've enjoyed these videos. We've had a great deal of fun with them. Drew Franklin acts as the cameraman, producer, and director. He works tirelessly behind the scenes to make all the magic happen. I greatly appreciate him as a coworker and friend. Please follow along on the KSR YouTube channel. I hope I typed that correctly. We would surely appreciate it. So now you know. I can no longer cross the line back over to the Pro J side of the fence. I'm too old to change my ways and love these players too much to not show how proud I am of them. 
Football state.