Jovon Bouknight shares his side of the story from DUI arrest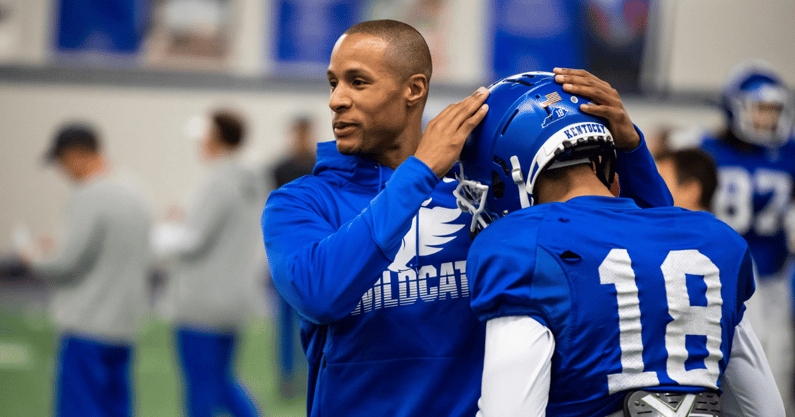 In May Jovon Bouknight was arrested in Northern Kentucky and charged with a DUI. For the first time the former UK wide receivers coach is telling his side of the story.
Bouknight was charged with operating a motor vehicle under the influence of drugs or alcohol, possession of an open alcohol beverage container in a motor vehicle and speeding 26 mph or more over the speed limit. The DUI was charge was later dropped. He pled guilty to speeding and possessing the open container. Bouknight was suspended for a month without pay, then reassigned as a quality control coach, an off-the-field role.
Police Report Omission
The incident report from the Erlanger police noted there was an "odor of alcoholic beverages" inside Bouknight's car when he was pulled over. What it did not note is that he was accompanied by two others, his brother and a female companion.
Bouknight told the Courier-Journal that after an officer took his license and registration, he returned to ask if anyone had been drinking. The passengers Bouknight picked up from the airport admitted they had been drinking. Bouknight responded, "No." As the questioning continued, the passengers grew impatient.
"(The passengers) were getting agitated," Bouknight said, "to the point where, 'My uncle is a lawyer,' and … 'He didn't do nothing.' At this point, I could tell the conversation was shifting.

"I have a good buddy that's in the force. He said, 'Look Bo, especially in this day in life you've got to be careful.' Especially late at night. The one thing I remember from him is he was like, 'If the situation ever presented itself, two hands on the wheel. Yes, no. Obviously, be to the point where you are obviously still complying with the officer, but yes, no answers.'

"At that point as soon as the situation kind of escalated, I just wanted to be as respectful as possible."

Courier-Journal
When asked why the passengers were not included in the report, Erlanger police did not respond to the Courier-Journal with a comment.
Breathalyzer Refusal
Even though Bouknight claims he was not drinking on the night of the arrest, he refused to consent to a field sobriety test. Harkening back to warnings from his friend on the police force, he continued to respond with short "yes or no" answers. Bouknight cited safety concerns for refusing to undergo a field sobriety test.
As for the open container, his brother admitted to bringing the open vodka bottle with him from the plane. Bouknight was picking up the two up from CVG airport.
Bouknight takes "full responsibility"
Even though Bouknight believes he was wrongfully charged, the UK staffer admits he was speeding and takes full responsibility for his actions.
"Obviously to go to a situation like this where you're putting any of your family members or even the university in a compromising situation, it obviously sucks, and it's an embarrassment to many people," Bouknight said. "I get it, and I understand it. I take full responsibility. An arrest is an arrest at the end of the day, whether you're guilty or you're innocent."