Judgment Day Profile: Terrence Jones
Today, we are previewing the decisions of all five of UK's underclassmen who are set to announce this evening. Now, Terrence Jones...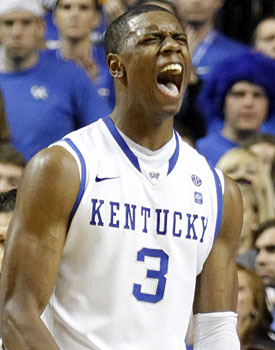 NBADraft.net projection:
20th overall pick, Atlanta Hawks
Draft Express projection: 
11th overall pick, Portland Trailblazers
ESPN Insider projection: 
12th overall pick, Milwaukee Bucks
Why he should enter the NBA Draft:
He's coming off a very strong finish to the season after his draft stock plummeted earlier in the year. The way he played in the tournament is fresh on scout's minds and he should capitalize on that and keep it rolling through camps.
Why he should return to Kentucky:
He could still improve his stock by putting it all together and playing well for an entire season. A consistent junior season could mean another million or two per year in the league.
Chance of a return:
0.0000002%
KSR prediction: 
Jones shocked us all by coming back to school for his sophomore season. He's not doing it again.