Julius Randle explodes for career-high 57 points for Knicks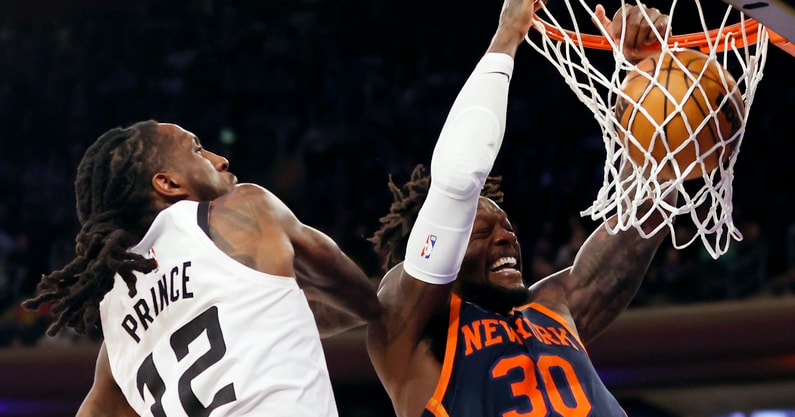 We interrupt your Monday evening to let you know Julius Randle is quite good at the game of basketball. Historically good, at least in terms of individual performances for a New York Knickerbocker.
My goodness, what a night for the former Wildcat, exploding for a career-high 57 points to become the first player in Knicks history to score 55-plus points on eight-plus 3-pointers. He also becomes just the fourth NYK player to go for 57, joining Carmelo Anthony (62, 2014), Bernard King (60, 1984) and Richie Guerin (57, 1959). His 26 points in the third quarter is officially the most in franchise history.
The former Kentucky star closed out the third quarter with 52 points en route to the 57-point effort. He finished shooting 19-29 from the field, 8-14 from three and 11-13 at the line in 37 minutes, adding four rebounds and an assist.
His career night came in a tough 140-134 loss against the Minnesota Timberwolves, a regretful final result for Knicks coach Tom Thibodeau.
"It's a shame to waste a performance like that," he said after the game. "He scored the ball. You couldn't ask for more."
The loss wasn't the story of the night. And it sure as heck won't take away from the dominant effort Randle put forth.
Take a look at the complete game highlights at your earliest convenience:
Randle played at Kentucky back in 2013-14, where he led the team with 15.0 points and 10.4 rebounds in 30.8 minutes per contest, shooting 50.1% from the field and 70.6% at the line. Setting a UK single-season freshman records in rebounds (417), double-doubles (24) and made free throws (204), the 6-foot-9 forward was named a Third-Team All-American, SEC Freshman of the Year and an All-SEC First Team member.
A nine-year pro, Randle has been an All-Star twice, both within the past three seasons. Suiting up for the Lakers, New Orleans Pelicans and Knicks, he's broken through as a star in New York, averaging 22.3 points and 10.1 rebounds per contest over the course of four years.
Now, you can add a career-high scoring effort to his long list of NBA accolades.