Justin Edwards, Kentucky targets invited to USA minicamp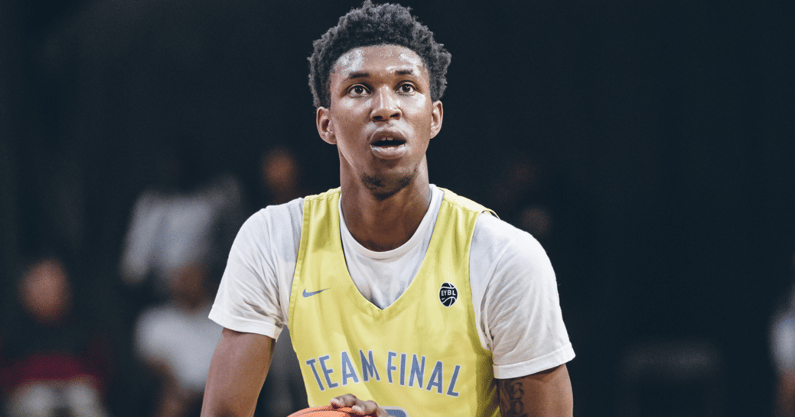 USA Junior National Team minicamp is back for the first time in three years — and it will feature some familiar faces.
Among the 62 athletes participating at the U.S. Olympic & Paralympic Training Center in Colorado Springs from Oct. 7-10 are multiple top Kentucky basketball recruiting targets, including one pledge in five-star wing Justin Edwards.
Prospects in the classes of 2023, 2024, 2025 and 2026 will all be in attendance, participating in drills, practices and scrimmages, among other instructional opportunities. Junior National Team members and their parents will participate in a series of educational programs presented by USA Basketball, NCAA and NBA Player Development Program focused on NCAA eligibility, mental health issues and life skills development.
The event regularly features future NBA standouts, with the last minicamp featuring the likes of Chet Holmgren, Jabari Smith, Evan Mobley, Scottie Barnes and Jalen Green back in 2019. Who has been selected to participate this time around?
2023
Matt Bewley (Overtime Elite/Ft. Lauderdale, Fla.)
Omaha Bielew (Link Year Prep/Waukee, Iowa)
Layden Blocker(Sunrise Christian/Little Rock, Ark.)
Kanaan Carlyle(Overtime Elite/Alpharetta, Ga.)
Coen Carr (Early Legacy College/Stockbridge, Ga.)
Stephon Castle(Newton H.S./Covington, Ga.)
Jacolb Cole (Link Academy/Houston, Texas)
Mookie Cook (AZ Compass Prep/Jefferson, Ore.)
Eric Dailey Jr. (IMG Academy/Bradenton, Fla.)
Justin Edwards(Imhotep Institute/Philadelphia, Pa.)
Dennis Evans III (Hillcrest H.S./Riverside, Calif.)
Jeremy Fears Jr.(Joliet H.S./Chicago, Ill.) 
Caleb Foster (Notre Dame H.S./Charlotte N.C.)
Brandon Garrison (Del City H.S./Oklahoma City, Okla.)
Ron Holland (Duncanville H.S./Dallas, Texas)
Aden Holloway (Prolific Prep/Charlotte, N.C.)
AJ Johnson (Donda Academy/Fresno, Calif.)
Scotty Middleton (Sunrise Christian/Miami, Fla.)
Justin McBride (Plano Senior H.S./Plano, Texas)
Jared McCain (Centennial H.S./Sacramento, Calif.)
Tyler Smith (Overtime Elite/Houston, Texas)
Wesley Yates III(Beaumont United H.S./Beaumont, Texas).
2024
Airious Bailey (McEachern H.S./Chattanooga, Tenn.)
Annor Boateng (Little Rock Central H.S./Little Rock, Ark.)
David Castillo (Bartlesville H.S./Bartlesville, Okla.)
Ian Jackson (Cardinal Hayes H.S./Bronx, N.Y.)
Ryan Jones (The Rock School/Gainesville, Fla.)
Karter Knox (Tampa Catholic H.S./Tampa, Fla.)
Vyctorius Miller (AZ Compass Prep/Los Angeles, Calif.)
Tahaad Pettiford (Hudson Catholic/Jersey City, N.J.)
Jamari Phillips (Modesto Christian/Antioch, Calif.).
2025
Cameron Boozer (Christopher Columbus H.S./Miami, Fla.)
Cayden Boozer (Christopher Columbus H.S./Miami, Fla.)
Jerry Easter II (Emmanuel Christian/Toledo, Ohio)
Jeremiah Green (AZ Compass Prep/Lantana, Texas)
Jalen Haralson (Fishers H.S./Anderson, Ind.)
Isiah Harwell (Wasatch Academy/Pocatello, Idaho)
Jamier Jones(IMG Academy/Sarasota, Fla.)
Nyk Lewis (Gonzaga College H.S./Washington D.C.)
Alier Maluk (Imani Christian/Pittsburgh, Pa.)
JJ Mandaquit (Real Salt Lake Academy/Hilo, Hawaii)
Chris Nwuli (Bishop Gorman H.S./Las Vegas, Nev.)
Koa Peat (Perry H.S./Chandler, Ariz.)
Darryn Peterson (Cuyahoga Valley Christian Academy/Canton, Ohio)
Jayden Quaintance (Hillcrest Prep/Cleveland, Ohio)
TJ Stuttley (Onalaska H.S./Onalaska, Wis.)
Meleek Thomas (Lincoln Park H.S./Pittsburgh, Pa.)
Bryson Tiller (Overtime Elite/Atlanta, Ga.)
Nigel Walls (St. Francis Episcopal/Houston, Texas)
Sebastian Williams-Adams (St Johns H.S./Houston, Texas).
2026
AJ Dybantsa (St. Sebastian/Brockton, Mass.)
Sam Funches (Germantown H.S./ Gluckstadt, Miss.)
Caleb Gaskins (Holy Trinity Episcopal/Melbourne, Fla.)
Cam Holmes (Millennium H.S./Goodyear, Ariz.)
Caleb Holt (Buckhorn H.S./Huntsville, Ala.)
Brandon McCoy (Bishop O'Dowd H.S./Oakland, Calif.)
Jalen Montonati (Owasso H.S./Owasso, Okla.)
Nas Price (Seven Lakes H.S./St. Louis, Mo.)
Jordan Smith Jr. (St. Paul VI/Washington D.C.)
Tyran Stokes (Prolific Prep/Louisville, Ky.)
Jaden Toombs (Dynamic Prep/Amarillo, Texas) 
Elijah Williams (Scottsdale Christian/Phoenix, Ariz.)
Justin Edwards is the lone Kentucky commit set to participate, joining Ron Holland as the other remaining 2023 targets of interest. From there, 2024 targets Ian Jackson, Ace Bailey, Karter Knox and Tahaad Pettiford will be there, as will Darryn Peterson, the only 2025 prospect to hold an offer from UK.
Players from the 2023-2025 classes played with USA Basketball for 5×5 and 3×3 events this summer, with Castillo, Evans III, Fears Jr., Holland, Jackson, Knox and Peat led Team USA to its sixth consecutive gold medal at the 2022 FIBA U17 World Cup. Elsewhere, Carlyle, Castle, Dailey Jr., Garrison and McCain were members of USA Basketball's 2022 FIBA U18 Americas Championship team, which captured its sixth straight gold medal. Carr and Daily Jr. were also members of the 2022 FIBA 3×3 U18 World Cup team.
"USA Basketball is excited about the elite group of players that will be part of the Junior National Team minicamp," said Sean Ford, committee chair and USA Basketball's Men's National Team director. "It's a pleasure to return several gold medalists and training camp members from this summer's competitions, as well as welcome a group of young, talented players into the program."