Justin Edwards likes family atmosphere of Tennessee, pro potential at Kentucky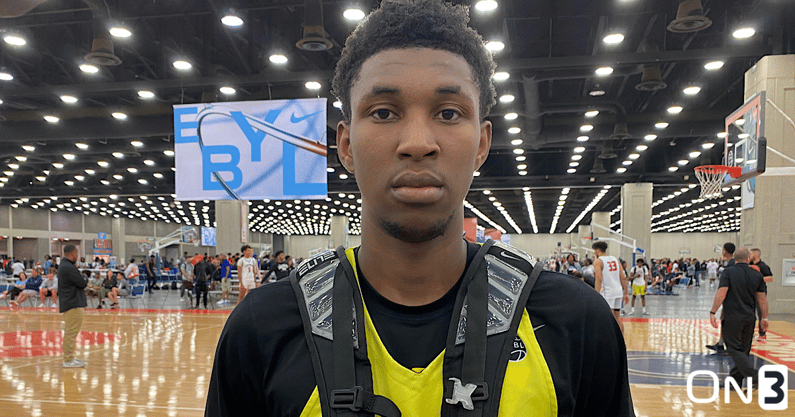 There is an SEC battle shaping up for 2023 five-star wing Justin Edwards. Kentucky was once seen as the heavy favorite, but Tennessee has crept in as a legitimate contender. Now, the two conference foes are seen as the top options, with everyone else fighting for third place and beyond.
What is it about the two SEC programs that separate them from the pack?
On Kentucky's end, it's the professional basketball mindset, a program geared toward getting you to the league. That's something that appeals to the 6-foot-6 wing.
"(John Calipari) is a good guy and they have a historical program," Edwards said at Nike EYBL Session III in Louisville this weekend. "They get the job done. Coach Orlando (Antigua) and Coach Calipari, I hear from them. They can make me become one of the great players that come from Kentucky."
As for Tennessee, it's like home, a school that welcomed him with open arms when he visited Knoxville back in March.
"It's a family atmosphere," Edwards said. "When I went down there, I felt welcome. The team welcomed me like I was already there, already on the team. I'm a big person on family atmosphere."
He likes Kentucky's style of play and the way they help their players get to the next level. As a future pro, it's a seamless transition for the five-star wing,
"When I was on my visit, I saw they're playing style and how they play," he told On3. "They get guys to the league, but their team is all connected as one."
As for Tennessee, they are pitching the idea of coming in and being a top option, something that appeals to Edwards.
"They let me know I am going to be 'the guy' if I go there," he added. "They had a really close, family atmosphere. Coach (Rick) Barnes has been good with wings; he put them in the pros. I fit with the spacing and pressing they do."
That's not to say he couldn't be that at Kentucky, either. He's ranked No. 10 overall in the On3 Consensus, an elite two-way threat. Being in Lexington could prove he's the best of the best, separating himself on a roster full of top talent.
"I want to be the guy, I want to be someone who gets challenged physically and mentally," he said. "If I went to a place like Kentucky, I feel like it could prepare me for the next level."
He has no future visits planned and no decision timeline as of yet. "Just playing it out right now," he said.
When that time comes, though, he knows he wants to play for a school that allows him to be himself.
"I want to go somewhere I feel comfortable, somewhere I can be myself at a school," he said.
Will that program be Kentucky?