Jamarius Dinkins, Josaih Hayes have opportunity to seize starting spot on Kentucky's defensive line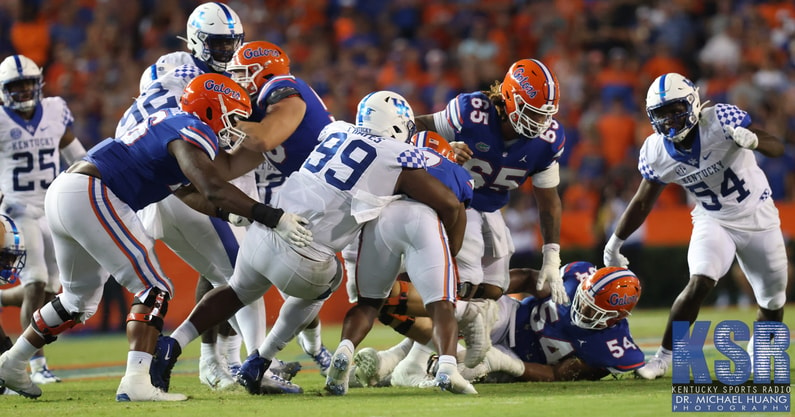 The Kentucky defense got hit with a bombshell on Tuesday morning when it was reported that starting nose tackle Justin Rogers has decided to enter the transfer portal with two years of eligibility remaining. Unexpectedly, defensive coordinator Brad White and defensive line coach Anwar Stewart will need to find a new starter at nose tackle.
At zero technique, the Cats have had a good recent run. Both Quinton Bohanna (Dallas Cowboys) and Marquan McCall (Carolina Panthers) are making plays on Sundays after productive careers in Lexington. Former top-50 recruit Rogers was slated to be a cornerstone of the defensive operation when the Wildcats signed the blue-chip prospect in the class of 2020.
Rogers finally started to flash some of that promise in 2022 playing 450 snaps and recording 35 tackles, 1.5 tackles for loss, and 11 pressures. However, that production will be added to another defense in 2023.
Now it's time to assess the current options that Kentucky has on the roster as the spring semester in Lexington begins on Jan. 9.
Josaih Hayes was another four-star recruit who has yet to breakthrough
Elsewhere in that 2020 recruiting class, Kentucky went down to Mississippi and signed four-star prospect Josaih Hayes as new assistant coach Jon Sumrall beat Ole Miss in a head-to-head recruiting battle. Hayes earned playing time as a true freshman but has yet to make a major impact.
The Horn Lake (Miss.) High product played sparingly as a true freshman in 2020 before seeing 241 snaps in 2021 splitting time with Justin Rogers while Marquan McCall was sidelined with an injury. Hayes finished that year with a 64.8 PFF grade and 14 tackles to go along with a 4 percent pressure rate. However, the former four-star recruit took a step back in 2022.
After playing 70 snaps over the first four weeks of the season, Hayes did not make the trip with the team to Ole Miss and also missed the home game with Vanderbilt on Nov. 12. The nose tackle played just 46 snaps following that Ole Miss game.
There is potential with the senior who has two years of eligibility remaining, but it has been an up-and-down career for the Mississippi native in Lexington.
Jamarius Dinkins flashed as a redshirt freshman
Jamarius Dinkins was a three-star recruiting win for Kentucky out of Columbus (Ohio) Walnut Ridge in the class of 2021. However, the man called "Spider" at the Joe Craft Football Training Facility was projected to need some time to develop after high school.
We started to see some of that potential this season.
Emerging as another option at nose tackle, Dinkins played 50 snaps over the last six games of the season recording a sack against Louisville. The young player still needs to add some strength and mass after playing last season at 280 pounds, but Dinkins has flashed some potential as an interior pass rusher with a good motor and length.
The young player took big strides as the season came to an end and could be ready to make another jump after an offseason in the strength & conditioning program.
Kentucky has depth but could add a player or two on the defensive line
We still are not 100 percent sure when Danville (Ky.) Boyle County signee Tommy Ziesmer will play when he arrives on campus. For now, we're going to consider him an EDGE. That means Anwar Stewart currently has nine scholarship players in his position room. Most have played in their Kentucky careers. Let's take a look at the current projected two-deep with career snap counts included.
As the data shows, Kentucky will enter the 2023 season with six guys who have played meaningful snaps in college. Elsewhere, both Sam Anaele and Darrion Henry-Young were former four-star recruits that still have potential. Tomiwa Durojaiye is also there as a redshirt freshman. In the current recruiting cycle, Kentucky only signed three-star recruit Tavion Gadson who projects as a field end in Kentucky's scheme.
There is depth at each spot. Deone Walker is a wild card who could play all three spots on this defense. We should expect the coaching staff to use the star sophomore in multiple ways next season. But the Cats are just an injury away from being extremely thin at nose tackle.
Going into the transfer portal to find another option that can play zero technique would make some sense. Jamarius Dinkins seems to have a high ceiling but likely still needs some time to grow. Josaih Hayes can play productive football but is coming off a season where he nearly fell out of the rotation.
Expect the coaching staff to look at options in the portal. It seems very possible that Kentucky could add a potential starter at nose in the current transfer portal window or in May when the second window opens ups.