Kansas State hasn't seen anything like Oscar Tshiebwe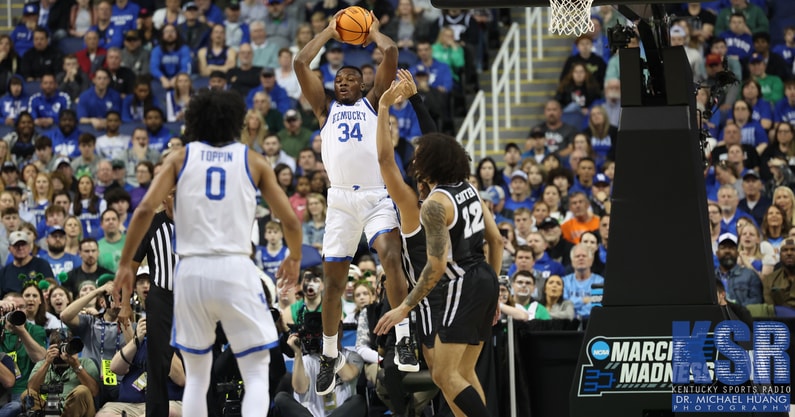 Oscar Tshiebwe is at the top of Kansas State's scouting report on Kentucky.
As he should be.
After all, the two-time All-American reset Kentucky's record for rebounds in an NCAA Tournament game with 25 in the first-round win over Providence. The NCAA Tournament hadn't seen that many in a single game since the 1970s.
For Kansas State, rebounding is a weakness, as the Wildcats prefer to stretch the floor, leaving them vulnerable on the glass and at the rim, so Tshiebwe isn't the ideal matchup for the smaller-sized team.
"It's going to be a team effort," said Keyontae Johnson, a friend of Tshiebwe's since high school. "We know he gives them a lot of second-chance points, so we just have to limit their offensive rebounds, box him out, find him when they get shots up. He is going to get his no matter what. That's what he do. He was National Player of the Year last year."
Nae'qwan Tomlin added, "We have to make sure we rebound, all five guys in the paint, so we can limit them from getting second-chance points. So just offensive rebounding. Definitely a team effort."
A thin, 6-10 forward, Tomlin will be a big part of Kansas State's plan to keep Tshiebwe from more record-setting numbers on the glass, but he doesn't recall running into anyone like Tshiebwe in the Big 12 Conference.
"He is real physical, and I feel like, you know, his strength helps him, especially, he has a high motor," said Tomlin. "So, you know, you just have to limit him getting deep paint touches. We need to limit him from being close to the rim. You just have to box him out."
Tomlin seems to be focused only on Tshiebwe, though, because when asked which team will dictate the style of play Sunday afternoon, Tomlin replied, "I don't think it will be something that will be much of a challenge besides Oscar, but, you know…"
Johnson said, "We played an SEC team before, so, I mean, I don't think it will be anything hard that we can't contain, really."
Jerome Tang unable to find a comp for Tshiebwe
It is Jerome Tang's job to get Kansas State ready for Oscar Tshiebwe, and he was asked about challenging his players for a physical matchup.
Tang replied, "You can't wrestle with Oscar, right? You're going to lose that. We don't have anybody on our team that can go into a physical wrestling match with him, so we're going to have to use our speed and our quickness to make it difficult for him, and then we're going to have to gang rebound.
Tang, who recruited Tshiebwe and then coached against him while at Baylor, noted he hasn't seen anything like Tshiebwe in the Big 12, either.
"We have, like, individual comps," he said. "Like each guy plays similar to another. We were unable to find a comp for Oscar Tshiebwe in our league."