Kareem Watkins has "unbreakable" bond with brother DJ Wagner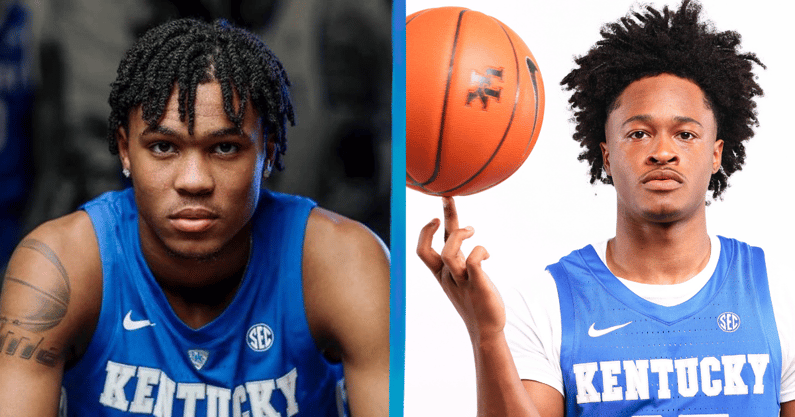 Kentucky walk-on guard Kareem Watkins has been thrown in the middle of one of the most heated in-state battles in the modern recruiting era. His brother, DJ Wagner, is the top-ranked guard in the class of 2023 and the No. 1 priority for both John Calipari at the University of Kentucky and Kenny Payne at the University of Louisville.
Watkins, the stepson of Wagner's father, Dajuan Wagner Sr., is the five-star prospect's "blood brother" and "best friend." Growing up together under the same roof, it's a relationship that extends well beyond the game of basketball.
"That's my brother, that's my blood brother," Wagner told KSR back in January. "The connection is great. We're like this [crossed fingers], we're best friends. That's my blood brother, our connection is great. … At home, he's a goofball like me. We like to play around a lot, goof around."
Five months later, Watkins provided a nearly identical response about his brother, down to the same hand gestures.
"That's my brother, we're like this [crossed fingers]. Our bond is unbreakable," Watkins told KSR at the Players First Satellite Camp in Shepherdsville on Friday. "We're just very close. At home, we're just like any other brothers. We goof around, argue, all that."
Watkins has been at Kentucky since November of 2020, an obvious recruiting advantage for the Wildcats as the coaching staff fights to land Wagner's commitment. On the flip side, Watkins doesn't view himself as an unofficial recruiter for the program. He'd like to play with his brother in college, sure, but Wagner's best interests will always surpass his individual desires to team up.
If that involves signing with Kentucky's bitter rival, Louisville, so be it.
"I'm just trying to help him out so he can make the best decision for him," Watkins told KSR. "It doesn't really matter what I'm doing. Whatever he wants to do, I'm trying to make sure he picks the best college for him in the future."
That's not to say Watkins isn't involved. Wagner made it clear he's leaning on his brother to help him with the recruiting process, learning the ins and outs of being a student-athlete at the collegiate level.
"Most definitely (I lean on him), that's my older brother," Wagner told KSR. "He tells me to just do what I want, do what I love to do."
Watkins' response? Again, nearly identical. There's obvious educational value in the walk-on guard's status as a basketball player at the University of Kentucky. Whenever Wagner comes looking for advice, Watkins is there to provide it, just as any brother would.
"That's my little brother," he told KSR. "I'm in college, I play basketball at Kentucky. Whether it's Kentucky or anywhere he wants to go, I'm just telling him about the college experience, what he's going to go through, the workouts, school, everything."
His family-first recruiting approach was on display this past weekend at the Nike EYBL event in Louisville. Watkins was there in person watching Wagner's New Jersey Scholars in action, hanging out right behind the bench. It wasn't a Kentucky player looking to recruit a five-star target when coaches aren't allowed to evaluate in person during a dead period.
It was family supporting family at a basketball game, simple as that.
"I was there supporting my brother," Watkins said. "That's it."
Watkins is a player on the Kentucky basketball team, while Wagner's grandfather, Milt, was recently hired as Louisville basketball's director of player development and alumni relations. It will be a battle of family ties at both schools.
Now it's up to the nation's top-ranked guard to decide which side is the better fit.