Karl-Anthony Towns is leading Minnesota back to the Playoffs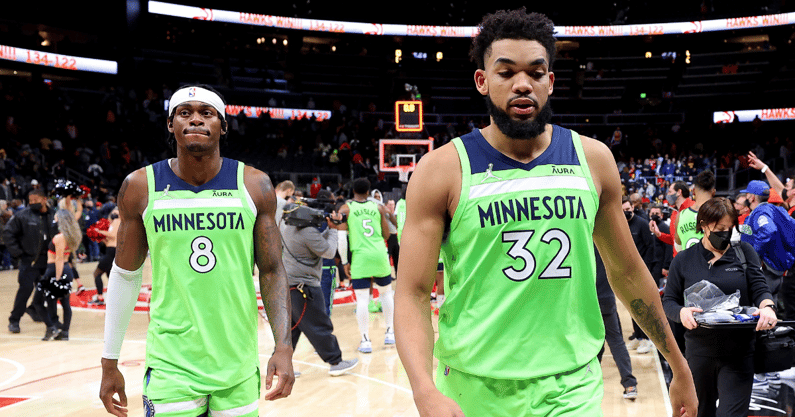 Karl-Anthony Towns' stay in postseason purgatory appears to be over. Minnesota has only made the playoffs once in the big man's NBA career — in 2018, when Jimmy Butler and Towns formed one of the Western Conference's most productive duos and secured the eight-seed.
Of course, Minnesota lost quickly to the Rockets that year and Butler soured his relationship with Towns and the Timberwolves the very next season. The front office eventually traded Butler, which sent the team in a spiral back towards the bottom of the standings.
Finally, in 2021-22, the T-Wolves are back in the postseason picture and for the first time with Karl-Anthony Towns as the face of the team, powered by his best individual year.
Towns averages 24.1 points, 9.4 rebounds and 3.6 assists per game. That stat line will get him in the 2022 All-Star Game. He's also shooting 51.6% from the field and 41% from three on 16 total field goal attempts and 5.4 threes per game. I've argued all year he should shoot even more. 20 times a game KAT, you're worth it!
Towns has averaged more points, more rebounds and shot better in previous seasons. But he's still producing similar numbers while playing alongside a better roster and competing for the postseason. Also, Minnesota is a top-third defensive unit in the NBA, in a large part thanks to Towns.
Not a conventional rim protector, one NBC Analyst says Towns is in the Marc Gasol mold. "He's big and gets in the way." Well, Karl is getting in the way as well as anyone this year. He, Patrick Beverley and rebounding juggernaut Jarred Vanderbilt are holding together an otherwise average rotation of defenders.
Minnesota is a smidge above-.500 a little over halfway thru the regular season. Normally, the West is strong enough to prevent near-.500 teams from making the Playoffs. With a weaker conference in '22 and two extra spots via the play-in, the Wolves are close to a lock to earn one of the 7-10 play-in seeds at least.
Currently, they sit as the 7-seed — smack in the middle of a jumbled mess of playoff hopefuls — just 2.5 games away from both the five-seed and the nine-seed.
Recent performances propelled them to the top of the play-in spots. Minnesota is a winner in eight of its last 11 games. However, maintaining success is the key to really moving up in the West, and Minnesota is streaky. They're susceptible to losing streaks.
After starting out 3-1, Minnesota dropped five straight. Then, they rebounded to win eight of 11, but experienced another five-game losing streak before rebounding recently. Trends tell us a losing streak lies ahead.
The Timberwolves have games at Golden State and Phoenix on back-to-back days coming up, followed up home bouts with Denver and Utah–crucial four games for the T-Wolves. Take two or three wins and they've got four games afterward with Sacramento and Detroit. Minnesota, let's make some noise out west!