Karl-Anthony Towns makes his high school Hall of Fame; jersey to be retired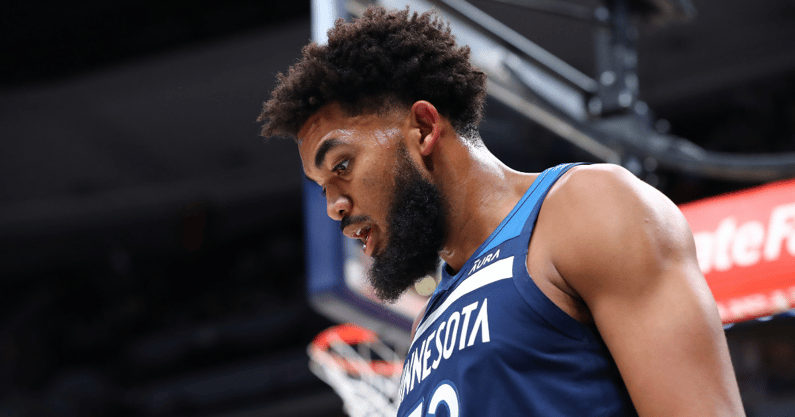 I could spend hours upon hours rattling off reasons why Karl-Anthony Towns is one of my all-time favorite basketball players–not just at Kentucky, but ever. Example No. 483 was what happened on Tuesday night at his high school alma mater, St. Joseph High School (NJ).
Towns, who graduated from St. Joseph in 2014 before establishing himself as a future No. 1 NBA Draft pick during his lone season at Kentucky, was recently inducted into his former high school's Athletic Hall of Fame and will soon have his No. 44 jersey retired. The Hall of Fame ceremony was actually held on Friday, but Towns could not attend until Tuesday due to his NBA preseason schedule with the Minnesota Timberwolves.
As a result, his appearance at St. Joseph was a bit of a surprise to the students.
While at his old stomping grounds, Towns praised his time at St. Joseph and how it helped mold him into the man he is today. The 6-foot-11 center spent three seasons at St. Joseph, reclassifying as a senior to join UK a year early.
During those years, the St. Joseph Falcons won three straight Greater Middlesex Conference Tournament and Non-Public A state titles. In Towns' final season in 2014, he led his squad to a 30-2 record and the school's sole Tournament of Champions title. He was also named the National Gatorade Player of the Year that season.
"St. Joe's is the best time in my life," Towns said, according to NJ.com. "I said that to everybody before and I'll say it again. Best time I've had in my basketball career and just the best time I've had as a person. St. Joe's gave me everything,"
Towns was accompanied by his father, his sister Lachelle Almonte, and a few close friends, including one of his best friends and teammates with the Minnesota Timberwolves, D'Angelo Russell. Both Towns and Russell met with members of the current St. Joseph basketball team to answer some questions about hoops and life.
Additionally, while in the New Jersey area, Towns also practiced on the basketball court over at Kean University, which was recently named after his later mother Jackie Towns, who died as a result of COVID-19 last spring.