Karl-Anthony Towns excited to form 'twin towers' with Rudy Gobert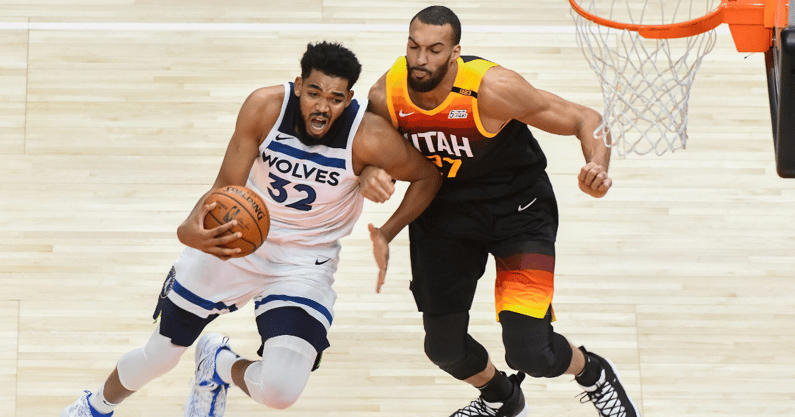 The Minnesota Timberwolves draped themselves in lab coats and busted out the test tubes this offseason as they plan to experiment with a new-age twist on "twin towers." Just a few weeks ago, they emptied their trunk of assets for the privilege of paying Rudy Gobert around $40 million dollars a year to play basketball. He will now join forces with former Kentucky star, Karl-Anthony Towns, in a modern NBA rarity: two All-Star centers playing alongside each other.
This experimentation came at a huge cost to the Timberwolves, as they gave up five players (Malik Beasley, Patrick Beverley, Leandro Bolmaro, Walker Kessler [No. 22 pick in 2022 Draft], and Kentucky's own Jarred Vanderbilt), four first-round draft picks, plus the option for a pick swap in 2026 just in case that wasn't enough.
This gargantuan price tag set off flares around the league, raising the bar for what a superstar costs and giving permission to the Brooklyn Nets to ask for the moon in return for the disgruntled scoring savant, Kevin Durant, who asked for a trade.
But will two All-Star 7-footers work in today's NBA that focuses on spreading the floor and shooting? Your first instincts might tell you no, but this specific scenario might not be as crazy as it seems.
Karl-Anthony Towns is pumped
One person who can't wait to see how this plays out is Karl-Anthony Towns. Of course, some of that excitement could stem from the fact he originally thought the deal was for Rudy Gay, a now-over-the-hill role player who is long removed from his UConn days where he single-handedly beat Kentucky in the 2006 NCAA tournament.
Once Towns found out it was actually Rudy Gobert, he perked up. In an ESPN interview, he explained how it all went down:
"I was in London, I was working out and my phone was off. So when I walked back upstairs to the hotel room, my girl was like, 'Did you hear the news?' And I was like, 'Nah, what are you talking about?' And she said, 'Rudy. You guys got Rudy.' I didn't know what she was talking about. I was completely confused; was like, 'Oh, we signed Rudy Gay?' I didn't know what was going on. And then she was like, 'No, no Rudy Gobert!'

I was excited. I didn't know what was happening but I just saw the vision of us both; twin towers out there. What he can do defensively, what I can offensively and we all putting that together for one organization. I think it's gonna be very different, the NBA hasn't seen something like this, this is unique. It's gonna be scary."

Karl-Anthony Towns on ESPN
A brief history of NBA twin towers
The term "twin towers" originated with the Houston Rockets when they drafted Hakeem Olajuwon (7'0″) to go alongside Ralph Sampson (7'4″) in 1984. The Rockets lost in the first round of the playoffs that year, however, the Olajuwon-Sampson duo was a force inside during their time together. They combined to average 41.6 points, 23 rebounds, and 3.6 blocks per game.
This unstoppable duo separated in 1986 when the Rockets traded Sampson to the Golden State Warriors, but in 1985, he and Olajuwon played together in the All-Star game. Since then, a few teams have tried their own version with varying success.
The most dominant pair of big men since then were David Robinson and Tim Duncan, who won two NBA Championships with the San Antonio Spurs in just five years between 1999 and 2003.
Other twin-tower-lite duos include Pau Gasol and Andrew Bynum, who were All-Stars for the Los Angeles Lakers during the 2011-12 and 2011-12 seasons, and Marc Gasol and Zach Randolph, who were both All-Stars at different times during their stent together with the Memphis Grizzlies. Calling the latter duo a set of twin towers is a bit of a stretch, considering Randolph at 6'9″ is not exactly a "tower", though he was certainly built as sturdy as one.
The most recent attempt at playing two All-Star big men came when the New Orleans Pelicans did it in 2016-17 with Kentucky legends Anthony Davis and DeMarcus Cousins. Unfortunately, this Kentucky dream combo only lasted a short while because Cousins ruptured his Achilles and soon after, Davis orchestrated his departure to the Lakers (where he is poised for a bounce-back season).
The Timberwolves have been testing this scheme with Jarred Vanderbilt
The reason the history of NBA twin towers is so scarce in recent years is that the concept worked much better in the 1980s during an era dominated by big men and big hair.
In modern basketball (except for teams coached by John Calipari), the emphasis has been to spread the floor with shooters to create space for athletic playmakers to drive toward the goal. What might make Minnesota's twin towers successful in these modern times is that one of their towers is Karl-Anthony Towns, the best-shooting big man in NBA history. Move over, Dirk Nowitzki.
Towns won the 3-point shooting competition last season, becoming the first center to ever achieve this feat. During games, he shot 41% from behind the arc on nearly five attempts per contest.
The Timberwolves have been dipping their toe into the water of how to maximize such a unique talent the last two years by pairing him with oft-injured Kentucky player, Jarred Vanderbilt, who held down the paint while Towns shot more 3-pointers than any center the NBA has ever seen. That mold of an athletic big man who could crash the glass and defend the paint gave Vanderbilt a great niche for his skill set and worked well for the team.
The Timberwolves quadruple down on this style of play with Rudy Gobert
The Timberwolves essentially hit the turbocharge button on this same game plan and upgraded Vanderbilt to Rudy Gobert. With all due respect to the Vandolorian, it is quite the upgrade. Gobert is a 3-time All-Star and 3-time Defensive Player of the Year who led the league in field goal percentage the last two seasons, rebounds last season, and who has never averaged fewer than two blocks per game since he was a rookie.
Normally, I would be pessimistic about two centers anchoring an NBA team in 2022, regardless of their talent, but with Karl-Anthony Towns and Rudy Gobert, it just might work, because Towns won't clog up the paint with Gobert on offense.
When you consider the Wolves also have former All-Star D'Angelo Russell and #1 overall draft pick/Adam Sandler co-star Anthony Edwards, this is a team that could make some serious noise in a stacked Western Conference.
If nothing else, this move has rejuvenated Karl-Anthony Towns, who teased a heel turn last season, and now appears to be freshly locked in.