Karl-Anthony Towns wins NBA 3-Point Contest, breaks shooting record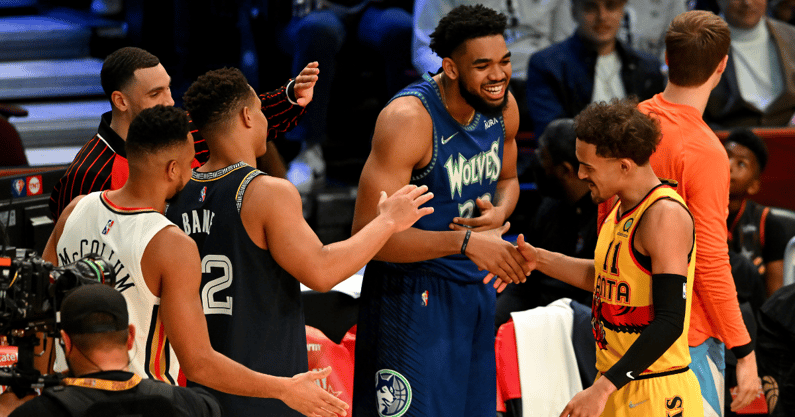 Karl-Anthony Towns is your 2022 NBA 3-Point Contest champion, defeating Trae Young and Luke Kennard in the title round to earn the prestigious trophy. And he broke the all-time scoring record — previously set by Devin Booker, mind you — in the process.
The former Kentucky standout scored a record 29 points in the title round, breaking Booker's previous record of 28 set in 2018. He becomes just the third big man to win the title, joining Kevin Love and Dirk Nowitzki.
Young and Kennard both scored 26 points in the title round to finish second and third, respectively.
Kennard won the first round with a score of 28 points, followed by Towns and Young both scoring 22 to open the event. The trio of participants knocked out Patty Mills, Fred VanVleet, Desmond Bane, Zach Lavine and CJ McCollum in the opening round.
"I told you the only way I'm going to lose is if someone outshoots me," Towns said following the win. "I'm up there with the best shooting big men of all time and I needed this trophy to prove it."
The former Wildcat is excited to bring the title trophy back home to Minnesota.
Towns is averaging 24.4 points and shooting 40.9% from three to go with 9.7 rebounds per contest in his seventh NBA season.
During his lone season at Kentucky, Towns averaged 10.3 points, 6.7 rebounds, 2.3 blocks and 1.1 assists in 21.1 minutes per contest en route to the No. 1 pick in the 2015 NBA Draft.