Keidron Smith, Jacquez Jones Help Kentucky Offense Prepare for Ole Miss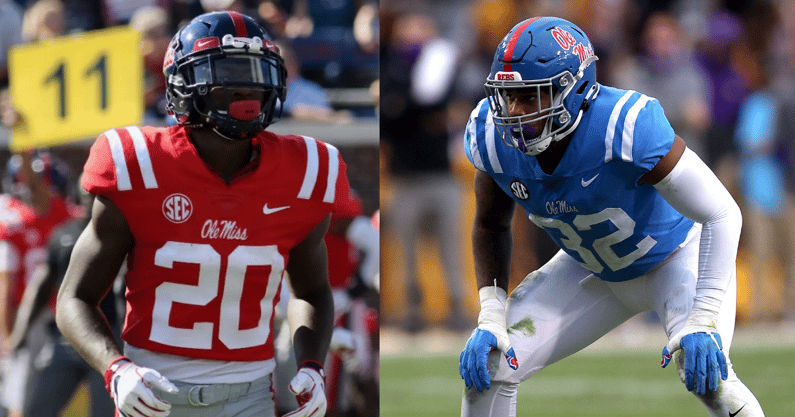 Kentucky does not need to go behind enemy lines to learn extra information about its next opponent. After all, they have a couple of Ole Miss defensive defectors wearing Wildcat jerseys this fall.
The Kentucky defense has not one, but two former starters that starred at Ole Miss. LB Jacquez Jones leads the Cats in tackles with 26 two years removed from his time in Oxford. Keidron Smith made the move to Lexington this offseason and the cornerback already has a pick six on his Kentucky resume.
Kentucky offensive coordinator Rich Scangarello was asked Tuesday night if they've helped the Wildcat offense game-plan ahead of Saturday's Top 25 matchup at Vaught-Hemingway Stadium.
"Absolutely… not," Scangarello said with a smirk. "Yeah I mean, I'd be crazy to have them not give me rules and scouting reports and things that they do. And I'd expect them to do the same. Bill Belichick's been claiming guys off the practice squad for years and do that every week. That is part of the nature of things."
This is not the first time Kentucky has had help scouting an opponent from a metaphorical turncoat. Lamar Jackson once claimed that UK wide receivers coach Lamar Thomas was sharing with the Kentucky defense all of Louisville's offensive calls (and then was roasted alive online). It's not that simple. The information Smith and Jones have acquired is just another data point for the Cats to consider.
"That can also hurt you too if you take too much into it sometimes. What's on the tape is what's on the tape," said Scangarello. "We'll attack it best we can and see if we can score some points."
The offensive coordinator isn't the only one picking the former Rebels' brains. Will Levis and the UK quarterbacks used Smith and Jones as a resource while watching film this week.
"Me and Jacquez and the quarterbacks and Keidron were all in the tight ends room last night watching film together, just kind of talking about which guys, kind of their tendencies, what kind of coverages they're doing," said Levis. "Some of the stuff is a little different than when Keidron was there; Jacquez even further behind. He was able to help us a lot just with kind of how their safeties play and what to expect. It's cool to have them on the team."
The homecoming to Oxford means a little more for the former Ole Miss roommates. They'll do whatever they can to help the Cats leave Vaught-Hemingway Stadium with a win.