Keion Brooks Jr., Davion Mintz scoff at Bob Huggins' criticism of Oscar Tshiebwe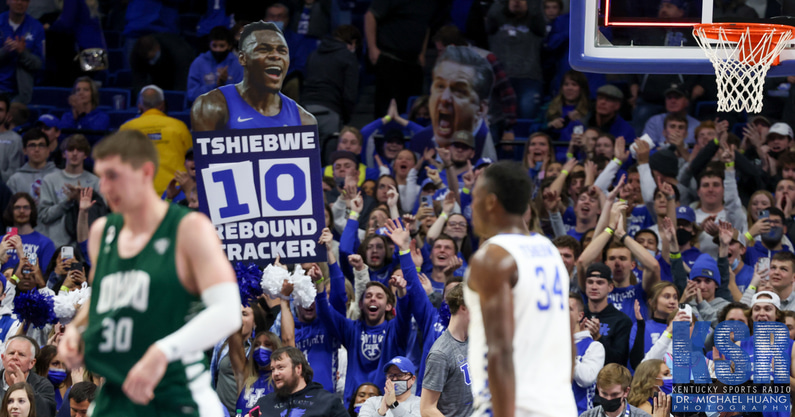 West Virginia coach Bob Huggins was critical of Oscar Tshiebwe's work ethic and fight during his time in Morgantown, saying the former Mountaineer didn't take hard coaching well.
"We lost an alleged McDonald's All-American because he didn't like the fact that we were making him do things that were hard," Huggins said following West Virginia's 87-68 victory over Elon on Thursday. "So, we're fine."
The comments directed toward Tshiebwe came after he called out his current team for not wanting to put in the work to earn minutes.
"We have 14 guys and they all want to play. You're going to have a little bit of unrest because they want to play," Huggins added. "… When I was growing up in the United States of America, you had to work for what you got. That's kind of gone now. That's the way it used to be and that's the way it's going to be as long as I am head ball coach here. They're going to earn their stripes so to speak. If they don't like it, go ahead and transfer."
When asked about Huggins' comments, John Calipari was taken aback. It wasn't necessarily the fact that his longtime friend was critical of Tshiebwe as a player, but that he questioned his work ethic.
To keep it short and sweet, Calipari said it's hard to put up the rebounding numbers Tshiebwe is and not work hard.
"We're still friends. I don't know exactly what he said or how he said it," Calipari said after Kentucky's win over Ohio on Friday. "You're telling me, and I don't know the context, but it's hard to say he doesn't work hard. [Whispers] He's averaging 20 rebounds per game. He works hard. And the biggest thing he can do, and you figured it out, the kid can also shoot."
Calipari clearly disagreed. His facial expressions spoke for themselves.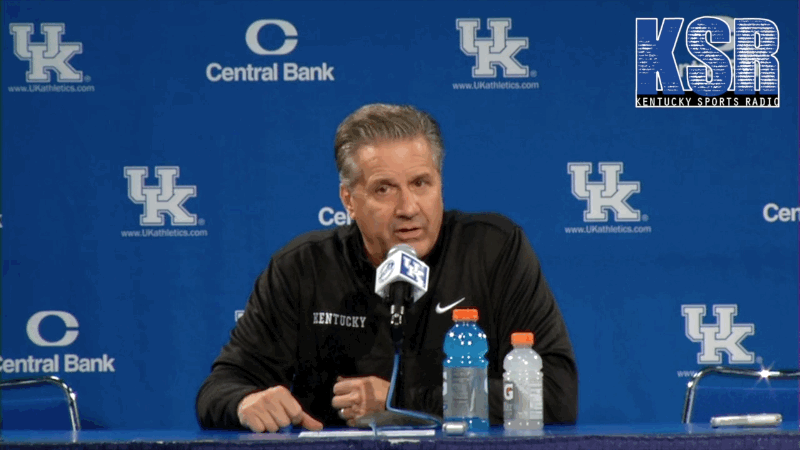 Calipari was confused. Tshiebwe's teammates? They laughed at the idea that Kentucky's anchor in the middle didn't work hard. Not only that, but they were quick to support their teammate as a player and person both on and off the floor.
"I don't know anything about Bob Huggins or how he runs his program, but the Oscar that I know accepts coaching exceptionally well, even from his teammates," Keion Brooks Jr. told KSR. "He comes in and works hard every day, always has a smile on his face. He's just a great teammate. I don't know where any of that came from, I don't think anyone can just transform like that."
"It's funny. It's funny," Davion Mintz added. "It's hard to comment on something like that. Oscar is exactly the opposite of everything he just said."
For Tshiebwe's teammates, they have nothing but positive words for the 6-foot-9 center and their time together in Lexington. What you see with Tshiebwe publicly is the same person he is behind closed doors.
"The Oscar that you get every day is genuinely the person that he is, and that's what's so special about him," Brooks told KSR. "I don't know Bob Huggins or what he got from Oscar, but the Oscar that I get is an exceptional human being."
"If he's mad, he can just say that," Mintz added. "We love Oscar here, and we're going to keep loving him. I'm happy he found a new home. That's all it's about. That's pretty funny, honestly.
"That's the furthest from the truth."
After picking up two fouls in the first 65 seconds of the game, Tshiebwe was forced to sit out the rest of the first half. After returning to the floor in the second, the standout center still managed to hit the double-figure mark on the glass, finishing with 10 rebounds in the win.
He didn't score, but you better believe Tshiebwe was still as happy as ever in the locker room after the win.
"He's great. He was so happy in there. He's smiling ear to ear. He's so happy to be with this group," Calipari said, "… We've got great kids. We've got great kids. … Oscar, 'I'm playing for all these people here. I'm working this hard for the fans.' That's a heck of a statement."
Heck of a statement indeed.