Keion Brooks Jr. is taking the shots that the defense is giving him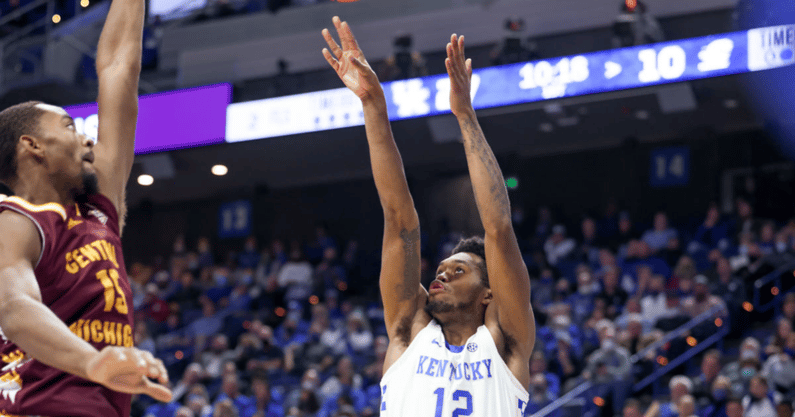 Over the last decade or so, advanced statistics have plainly told us that the best shots in basketball are right at the rim or behind the 3-point arc. For the most part, taking mid-range jumpers is now thought to be the most inefficient shot in the game, which can be true depending on the situation. But it's not always the case. For Keion Brooks Jr., he's making the midrange jumper his most dangerous offensive weapon.
Shooting long two-pointers has been considered a lost art, but in reality, it's never truly gone anywhere. Sure, shot distribution across all levels has shifted away from that shot, but players are now becoming more aware of when it's a good look versus when it's not. There is still immense value in knocking down a wide-open 15-footer, as Kentucky fans have seen early on through the 2021-22 season.
Brooks, along with Oscar Tshiebwe, has brought back the long-two. It's not necessarily a shot he's hunting, but it's one he's found himself open time and time again this season. Most importantly, though, is how often he's knocking it down.
"It's what the defense has been giving me," Brooks said on Thursday. "It's a shot I work on every day. And I think the midrange has been lost a bit, everyone wants to shoot 3s or get all the way to the rim. But when you get to playing really really good teams, I feel like teams that can make some of those two-point shots can really separate themselves.
"Because all coaches and defensive schemes are taught to take away the three and defend the rim. So if you can get in that intermediate area and be effective, it can really hurt some teams because they're not really trained to stop that."
His reasoning is sound, and he's backed it up through the first seven games of the season. Brooks is shooting 10-19 on shots outside the paint and inside the arc this season, or 52.6 percent. The majority of his makes were wide-open while the majority of his misses were contested. When he has space to fire up this shot, it would be counterproductive to pass it up, even if he could step back two feet for an extra point.
"It's a bit of a conundrum. You gotta take what the defense gives you," Brooks said. "You can't be so worried about exactly where you are on the floor when you have a shot. Like if I catch the ball, I don't have time to think about 'oh man I need to step behind the three' you have to get the thing off or pass it, because if you don't get it off, you're not going to shoot. And I like to shoot."
The midrange jumper is working for Brooks and it's making him a versatile offensive weapon. He actually leads Kentucky in percentage of possessions used at 24.2 percent, per KenPom, and is second in percentage of shots taken when on the court at nearly 27 percent.
While that might not seem ideal on the surface, it sure has paid off for both Brooks and Kentucky. He's shooting a career-high 51.8 percent on two-pointers, which has opened up more driving lanes and explains his 70 percent shooting clip at the rim, per hoop-math. When Brooks is in the game, Kentucky is posting 131.0 points per 100 possessions while giving up just 91.2., according to HoopsInsight.
The mid-range jumper still isn't as effective as a three-pointer or layup, but Brooks has found a way to make it a legitimate option in Kentucky's offense. Now it's about making it just as effective once the schedule begins to heat up.