Kellan Grady and Jerry Tipton bond over love for gangster films, organized crime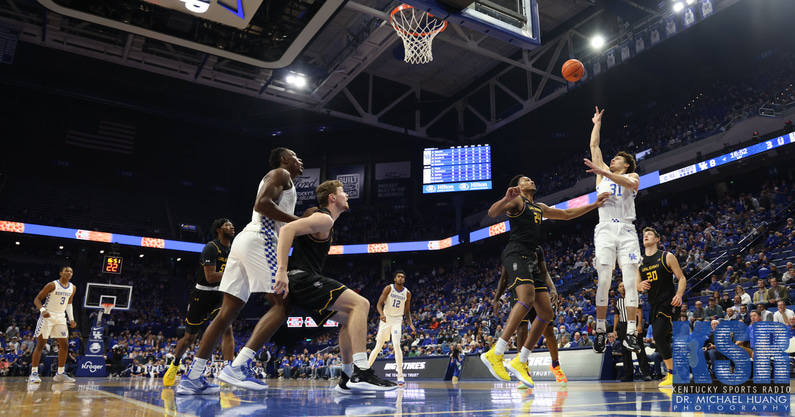 "I call him granddad," freshman TyTy Washington said of graduate transfer guard Kellan Grady following Kentucky's win over Albany Monday evening. "… He takes it well, he be laughing."
"Granddad!" Washington yelled across the media room at Rupp Arena.
"Yup?" Grady responded through a sea of reporters.
"Told you," Washington laughed. "He be taking it well. He knows he's the granddad, he's the OG."
Grady's reputation as the old man of the group is one he's embraced. Now 24 years old with four years of college basketball experience under his belt, 2,000-plus career points and an undergraduate degree in sociology, it was a role he signed up for when he announced his transfer to Kentucky back in the spring.
"It's not just TyTy, it's the whole team. They all call me that," Grady told KSR. "See, you heard him. They call me granddad. It naturally comes from the fact I'm a grad transfer and the oldest guy on the team, but they also allege I'm a very old soul."
Allege? I'm not quite sure there's much debate there. A single conversation with Grady tells you everything you need to know about the 6-foot-5 guard. He's articulate and intricate, mature beyond his years — even at 24 years old. You can see his gears turning with every thought.
It's his actions, though, that may speak even louder than those calculated words. The seasoned veteran sat down for his postgame interview rocking a black hoodie, one featuring the face of Marlon Brando from his legendary role in The Godfather.
It sparked a back-and-forth with Kentucky beat reporter Jerry Tipton that had absolutely zero to do with basketball, but may have been the highlight of the night.
"Are you a Marlon Brando fan?" Tipton asked.
"I am," Grady responded. "The Godfather is one of my favorite movies. I'm big into old-time gangster movies, mafia stuff."
"What's that a product of?" Tipton tossed back.
"I don't know. It fascinates me, organized crime," Grady said. "I can go on a tangent, so let's leave it at that."
"My favorite is Goodfellas," Tipton added, doubling down on the topic. "Have you seen that?"
"Of course I've seen Goodfellas."
"I like Godfather 2 better than Godfather 1," Tipton said. "What do you think?"
"That I'm not sure. I think The Godfather — I like Godfather 1 the most out of that trilogy. But I'd say Goodfellas and American Gangster are probably my favorite."
"Do you think with organized crime, being a detective, is that something you'd like to pursue?" UK Sports Network's Chandler Wilcox followed. "Or is that just a fascination?"
"It's a fascination," Grady said. "I always grew up loving detective, crime shows. Chicago PD, Law & Order SVU, The Blacklist, really anytime there's organized crime or crime involved and there's a contrarian investigating, I always took interest in that. Both sides fascinate me. Criminal Minds, at least in TV. I don't really care about criminals, but in TV, it fascinates me, so."
"I really like Joe Pesci," the intrigued Tipton jumped back in.
"Oh, he's awesome. He kills every mafia role. You know, Armand Assante has been good. (Al) Pacino always does a good job."
"I like (Robert) DeNiro, too"
"Yes, DeNiro is always (good)."
After bonding with one of Kentucky's most, er, experienced reporters over gangster films and crime shows, Grady could see how his "old soul" reputation may have come about. That doesn't mean he has to agree with it — not completely, anyway.
"Maybe that's in part because we just talked about old gangster movies and being a crime fanatic," Grady said, "along with some of my other daily habits, I'd say. … I think part of it is undeserving. I don't think I'm that much of an old soul."
It's not weird, necessarily, being so much older than some of his younger teammates. They just spend their free time differently.
"I may want to watch an old gangster movie, and they may want to watch, I don't know, Big Mouth or one of those new shows that apparently are trending," Grady said. "I don't understand."
When he's not watching classic films or crime shows, he also dips his toes into the world of late-night talk shows.
"I mean, I've got the shows I watch — I'll tune in to Jimmy Kimmel and Trevor Noah, that's how I keep up with the news and politics," Grady said. "I get a little comedic relief and stay informed, keep up on what's going on in the world on politics. That's different than what some of the other guys are doing."
Don't expect him to be dancing on TikTok anytime soon, either.
"No. Never. I will never be on TikTok," Grady added. "I couldn't care less about TikTok."
OK, maybe he is an old soul and maybe the granddad moniker is justified. At the end of the day, it's all in good fun. Grady knows the teasing is out of respect, and it's clear in the way his teammates absorb his advice and habits.
"(TyTy) does a really good job of following by example," Grady told KSR. "I'm not going to lecture him and tell him what to do, but I think he's observed the way I go about practice, go about my daily routine. I dedicate my time to this craft, to basketball. I think he appreciates that.
"He and I have a great relationship. It's different because I'm like five, six years older than him — I think five. He's always giving me a hard time for being old, busting my chops a lot. It's fun."
"I'm starting to pick up off of him, letting the game come to me," Washington said of Grady's guidance. "You see he never forces anything, always happy for his teammates, even when he's not scoring.
"… Kellan, he's a vet. He knows how to put the ball in the hole and find other guys that are open. He's just one of the leaders on the court for us."
Kellan Grady, the team's OG. "Original Gangster."
Fitting.