Kellan Grady finding his groove in Kentucky's up-tempo playstyle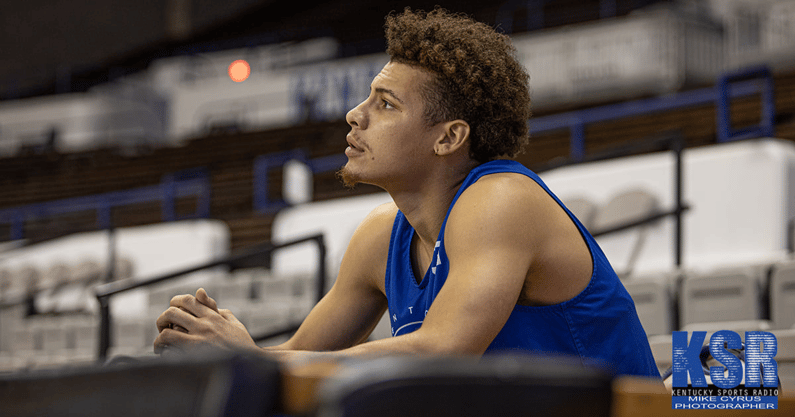 Kellan Grady is a 2,000 point college scorer. He's played in 115 career games (113 of them starts) and did not average fewer than 17 points per game during any of his four seasons at Davidson. The Boston native has made All-Conference teams and played in several postseason games. Being able to add a player of Grady's caliber in the transfer portal is rare, even in the new age of more lenient NCAA rules. He arrived in Lexington a graduate transfer with instant veteran respect.
But Grady's initial transition to Kentucky was anything but smooth. In fact, he struggled early on. The reality of what playing in the Southeastern Conference entails, compared to that of the Atlantic-10, set in rather quickly.
"First few weeks of September weren't my finest," Grady said during Media Day on Wednesday. "Just concepts and the points of emphasis here, different styles."
John Calipari is placing a major emphasis on Kentucky being a "speed team" this season, which he said means running faster than you think you can. The UK roster is loaded with athletes, and rotation spots will not be promised.
"You got to push yourself," Bryce Hopkins said about what being a speed team means. "When you're tired, you have 40 percent more left in your tank. Just push yourself outside the box and keep going."
No one is doubting Grady's ability to push himself. After his four stellar seasons at Davidson, we have no reason to believe he isn't a dedicated worker. Adapting to a new level of speed, however, can take time and lots of repetition. When you play fast, you have to think fast.
Hitting his stride
A month after encountering early struggles, Kellan Grady is already finding his groove. You hear the phrase "the game is slowing down" tossed around a lot for younger players, and there is plenty of truth behind it.
Kentucky's graduate transfer is living through it.
"In hindsight, I'm glad I had to go through that," Grady added. "Kind of a growing period and being able to face adversity while staying channeled and confident in the process. Having a couple of meetings with Cal, he said 'You've never played this way before, it's going to take some time.'"
Just a couple of days out from the annual Blue-White Game at Rupp Arena, Grady feels that time has already come.
"I've been pretty happy with myself the last month," Grady continued. "The coaches feel the same way I think, hitting shots at a much higher rate. The game has really slowed down so I'm really happy with where I'm at right now."
Calipari and the coaching staff have stayed in Grady's ear, particularly with perfecting his shooting motion. "Just shoot it straight" is what Cal would tell him. As long as the missed shots don't bounce right or left, he'll be fine in the long run.
That was all Grady needed to hear from his head coach. Misses are fine, just miss the right way. It's mental. Get your brain to think as fast as your feet and you'll be on the right path.
"Now he struggled early because he's never played this fast," Calipari said of Grady at Media Day. "But he's not struggling now."