WATCH: Kellan Grady finds shooting stroke at G League Elite Camp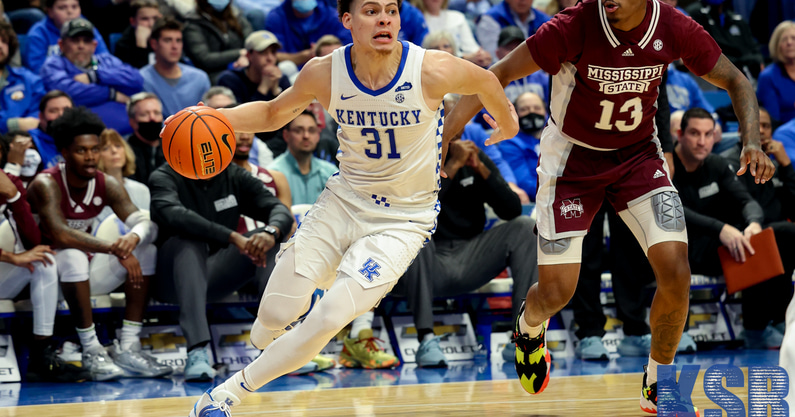 Kentucky guard Kellan Grady is one of 44 participants at this year's G League Elite Camp in Chicago. The Davidson transfer seems to have regained his mojo from behind the three-point line.
The super senior has been involved in the two-day camp that precedes the NBA Draft Combine. After not receiving an invitation to the combine that begins on Wednesday, Kellan Grady is looking to show off for scouts in attendance as the former top-100 recruit looks to enhance his pro stock. The sharpshooter flashed what made him such an effective college player for five seasons on Tuesday.
In a 111-94 win, Kellan Grady went for 14 points in 21 minutes of action making 4 of 9 shot attempts from deep. The perimeter player added in two makes at the charity stripe to go along with three rebounds, one assist, and zero turnovers. The grad transfer seems to have found some rhythm at the camp.
To end the 2021-22 season, Kellan Grady dealt with a foot injury that likely led to his poor shooting performances down the stretch. For the season, the two-guard was a very efficient spot-up shooter for John Calipari's offense shooting a career-high 41.7 percent from three on 6.2 attempts per game. In one season at Kentucky, Grady started all 34 games and led the Wildcats in minutes (32.9).
At the NBA level, spacing is key, and shooting is a top skill that every franchise is looking for. Although not a part of the combine, Kellan Grady may have done enough to get himself on the radar for NBA teams. Getting drafted could be a tall task, but the three-point specialist should find himself on a summer league team and will have a great chance at landing a two-way contract if the efficiency from deep continues.