Kellan Grady praises Kentucky's versatility, standout freshmen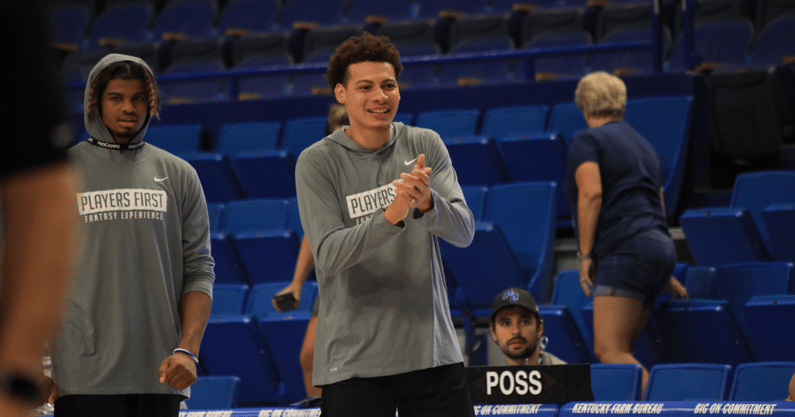 After a frustrating down year for the Kentucky basketball program, excitement is back going into the 2021-22 season. John Calipari was the conductor behind a complete roster and coaching overhaul, one that saw seven new players and two new coaches added to the program.
The Wildcats feature a sixth-year graduate in Davion Mintz, a fifth-year graduate in Kellan Grady, a redshirt junior in CJ Fredrick, four juniors in Keion Brooks Jr., Jacob Toppin, Oscar Tshiebwe, Sahvir Wheeler, a redshirt sophomore in Dontaie Allen, one sophomore in Lance Ware, and three freshmen in Daimion Collins, Bryce Hopkins, and TyTy Washington.
Combining returning talent and incoming transfers, Kentucky is set to roll out 13,385 minutes, 5,203 points, 1,917 rebounds, 1,132 assists, and 543 total 3-pointers in total college basketball production. It's a team lined with depth, experience, and talent.
"Good competition"
"If you think about my best teams, we had really good young talent, but there was veteran leadership within the team," Calipari said this week. "I had one team that went to the final game that started five freshmen. That is unusual. But this is more like a team that we've got depth.
"They've done some really good stuff together the seven, eight weeks this summer. They came together as a team, did good stuff. They started, since they've come back, doing team things. You never see one or two guys. You see six or seven.
"There's going to be great competition, but it's good competition. It's going to bring out the best of guys."
Grady, a star transfer in his own right, has high expectations and praise for the team after a summer of workouts and scrimmages. Looking across the roster, there are standout scorers, shooters, rebounders, players capable of running the floor and versatility across the board.
It's been an effort that has both the players and coaches pleased.
"So far the team has been looking great. I think we've got a lot of quality pieces," Grady told KSR on Thursday. "We're a versatile team, able to shoot the ball, get downhill, penetrate, create opportunities for our teammates. We've got added depth this year, really good on the backboards, rebounding the ball. We certainly have the potential to play fast and put up a lot of points.
"So far, guys are happy. Coach Cal and the staff seem very pleased with our progress and all the work we've put in."
Freshmen standouts
Much has been said about the incoming transfers and returning talent, and rightfully so. It's the most experienced roster since Calipari arrived in Lexington 13 years ago.
But make no mistake about it, the young kids can play too. In fact, one just may be the best player on the team.
"TyTy (Washington) is better than I thought," Calipari said this week. "A demeanor, plays the game as it comes, skilled — floaters, jump shots, making passes"
"TyTy is a complete player with a real keen knack for scoring the ball and just making the right play. Almost seamlessly, it seems," Grady added. "He's got range I think people may have underestimated. His shot consistency has been great.
"He's really been one of our best players so far. I'm entirely certain he'll be a joy to watch this year."
As for the other freshmen, Grady says Collins is progressing by the day and Hopkins has the ability to be an instant impact player.
"Daimion has progressed a lot just from the first day he's been on campus," Grady told KSR. "He runs the floor and just has a real nose for the ball, blocking shots and catching lobs. He's got a quality mid-range game. The biggest thing about Daimion is he's willing to take criticism and he's ready to learn. He's in the gym a whole bunch."
"Bryce is incredibly versatile. He's arguably one of the strongest guys on the team, just very physical. He's got a really good mid-range game with a combination of floaters and pull-ups. He actually shoots the three pretty well. He's just a tough kid, he's really going to battle.
"Bryce will have a big impact on our team."
"Bryce (Hopkins) has come in with a physicalness," Calipari added. "He's better than I thought."
With 12 scholarship players all capable of producing at a high level, Kentucky has a good problem on its hands when it comes to rotations and playing time. The pieces are there.