Kellan Grady still adjusting as opposing teams deny him looks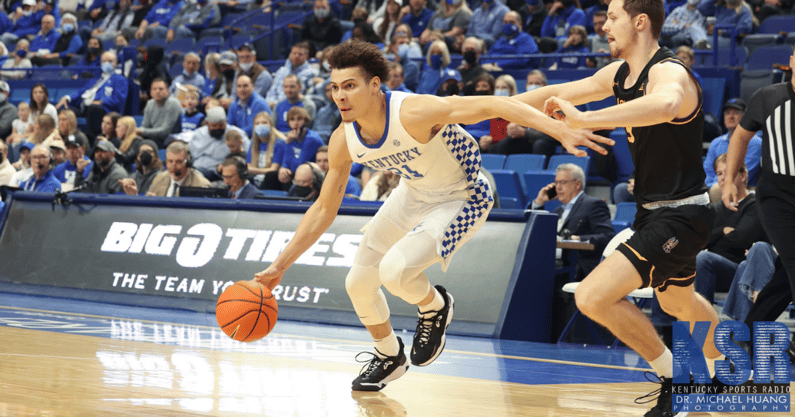 When opposing teams go up against Kentucky this year, preventing Kellan Grady from finding his groove is at the top of the priority list. The 6-foot-5 graduate transfer from Davidson is a well-known commodity at this point.
"You're on the scouting report. You may be at the top of the scouting report." Kentucky head coach John Calipari said of Grady after the Wildcats' 86-61 win over Albany on Monday night.
To be fair to Grady's resume, he was a known commodity before he arrived in Lexington. No one scores 2,000 points in Divison I by accident. But it wasn't an easy transition when he first got here. Grady admittedly struggled in the first month of practice as he adjusted to the speed and physicality of SEC basketball.
As a Wildcat, he's able to "fit in" much more than he could at Davidson, where he was expected to carry the team's offensive load. Grady is not relied on to score 17 points per night for UK.
"I think part of that is finding my role as one of the guys, but not the guy like I was accustomed to for four years," Grady said after the game about hesitating on some looks. "I think I have probably been conservative in picking my spots a little bit and letting the game come to me, which I think is a good thing. But I think there are sometimes where I could try to be more aggressive."
His job now is to get open and knock down shots. And early on in the 2021-22 season, Grady has done a solid job at that.
Through five games, Grady is a team-best 12-22 from beyond the arc (54.5 percent) and averaging 10 points per night. He hit three triples against Duke, dropped 19 points against Robert Morris, and added another 14 on Monday night. However, Grady was held scoreless in the win over Ohio last week. The Bobcats made it a point to ensure that no matter what else happened, Grady wouldn't be the one to beat them.
"He's on the scouting report. Like, don't leave him," Calipari said about Grady. "Well, you know what that means? They're working hard not to get you shots. What does that mean? You have to work really hard to get plays now. You gotta work harder than they're working to keep you from scoring, to score."
Grady isn't a lead ball-handler and doesn't masquerade as one. He's most effective when flying around screens, making hard cuts, and putting the defense to work. At the same time, those traits can make it easy for opposing teams to defend him if he doesn't work extra hard.
Calipari explained that he told Grady to go watch YouTube clips of former NBA shooting guard and three-time All-Star, Rip Hamilton. Cal spoke on how Hamilton would sprint around the court to not only free himself up for looks, but his teammates, as well. That's the role he envisions for Grady.
"I'm supposed to make shots and score the ball," Grady said after the game. "(Calipari) doesn't convolute my head with eight different things for me to do. (Against) Ohio I did an admittedly poor job at finding a way to make an impact when Ohio's game plan was to shield me from getting good looks."
Grady only fired off two shot attempts in the win over Ohio. But good players always find a way to make an impact; he did that in a bounce-back effort on Monday. His 14 points came on a 4-7 shooting clip that included a 3-5 mark from beyond the arc. Grady also went 3-4 from the charity stripe.
He's still not taking all of the shots that he should be, but that will hopefully come with more comfortability and confidence. If he has a couple of inches of space, a shot better go up–he's that kind of shooter. When Grady is ultra-aggressive, Kentucky adds a whole different level of threat to its offense.