Kenneth Horsey on Georgia: "This is the game we all committed here for"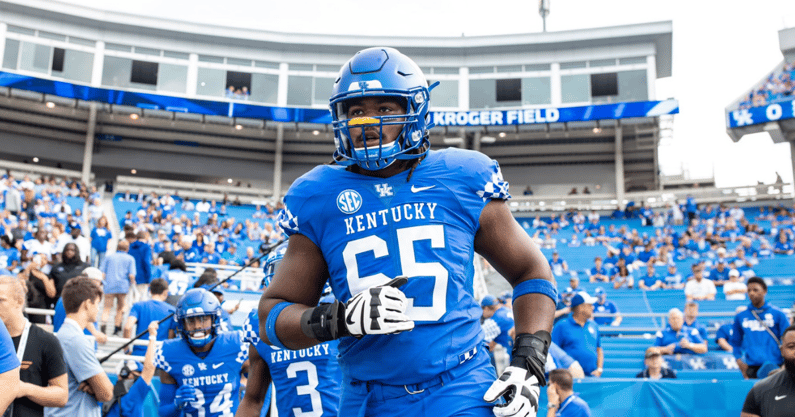 The Kentucky Football program has been building towards this moment for a long time. For years, you've heard Vince Marrow talk about how the next step is beating Georgia to take the SEC East throne. That chance is finally here this weekend; in front of a packed crowd at Kentucky Branded, junior offensive lineman Kenneth Horsey said he and his teammates are ready for it.
"This is the game we all committed here for," Horsey said on KSR. "We all committed here buying into the mission that Coach Stoops, Coach Marrow, Coach Schlarman, Coach Gran, that they had for us when they were there. So, at the end of the day, this is what we've been working for."
There are two ways of dealing with big moments. You either seize them or shy away. A two-year starter on the Big Blue Wall, Horsey said the team's nose-to-the-grindstone mentality sets them up to do the former, not the latter.
"I was just telling some of the guys the other day, 'Don't be shocked. This is why we're here. This is why we came to the SEC. This is why we came to Kentucky, to do these things, to play in these games, to be on this stage.' Coach Stoops and the guys have done a great job of preparing us for that. So that's exactly what we're going to do. We're going to handle our business."
"Like Coach Schlarman said, if you come together, no one can stop you," Horsey said.
Still Schlarman Strong
Horsey was recruited by the late, great John Schlarman. He wore Schlarman's No. 65 jersey for the Florida game and choked up while speaking about him today.
"He was always a perfect example of what Kentucky represented, what we wanted to represent. All of our core values: attitude, toughness, discipline, pride. Coach Schlarman was all of those things. We love him. We miss him. We think about him always. Before every game, after every game, we pray for that family, pray for Coach."
Horsey continues to be inspired by Schlarman on and off the field. He had open-heart surgery in 2018, the spring before his freshman season. Once fully recovered, he worked his way into the starting lineup. He also started sharing his story publicly in hopes of helping others, teaming up with the American Heart Association to promote heart health.
Vote for Horsey for 2021 Allstate AFCA Good Works Team Captain
Last month, Horsey was named to the 2021 Allstate American Football Coaches Association (AFCA) Good Works Team. You can vote for him to be team captain at ESPN.com/Allstate. You can vote every day, so set a reminder.
Horsey has a new clothing line, 68 Wave, dropping soon, so keep an eye out for that as well.