Kenneth Horsey named Pop Warner College Football Player of the Year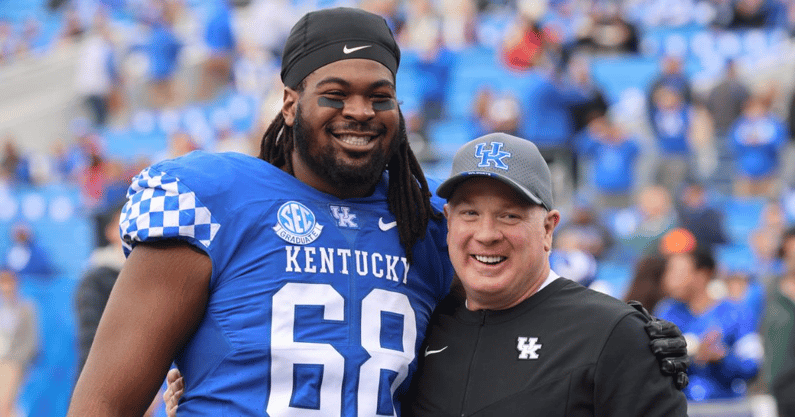 Add another major honor to Kenneth Horsey's long list of accolades for his good deeds off the football field. Kentucky's super-senior offensive guard has been named the 2022-23 Pop Warner College Football Player of the Year by the Pop Warner Little Scholars, the nation's preeminent youth football organization. The award is presented to the student-athlete who has displayed extraordinary leadership on the football field, in the classroom, and in the community. The other finalists were Auburn kicker Anders Carlson and UCLA receiver Jake Bobo.
Other Pop Warner national award recipients, which recognize individuals and organizations for their contributions to the community and commitment to athletics, youth, education, and health, were the Buffalo Bills training staff (Humanitarian Award), Mexico women's national flag football team quarterback Diana Flores (Trailblazer Award), and the Seattle Seahawks (NFL Team of the Year Award).
In April 2018, the spring before his freshman season, Horsey was diagnosed with endocarditis, a dangerous infection on a heart valve, and had to undergo open-heart surgery. Once fully recovered, he worked his way into the starting lineup and started 33 consecutive games. He was also inspired to share his story by the late, great John Schlarman, the creator of Kentucky's Big Blue Wall.
In January 2021, Horsey participated in the Central Kentucky Heart Walk, speaking publicly about his experience for the first time. He also organized a Hands-Only CPR training for Kentucky's football team and staff and was awarded the Finn Collier Service Award by the AHA in recognition of his work to support its lifesaving mission – to be a relentless force for a world of longer, healthier lives. Horsey also was named to the Allstate AFCA Good Works Team for his volunteer work with the AHA.
Here are a few of Horsey's community service events:
Participated in American Heart Month and National Wear Red Day (2020-2023)
Participated in the American Heart Association Heart Ball (2022-2023)
Participated in the 2021 Central Kentucky Heart Walk Digital Experience (2021)
Coordinated and planned a hands-only CPR training for the UK Football team and staff (2021)
Helped plan a Hands-Only CPR media availability on June 14 that promoted Hands-Only CPR awareness to the media for CPR Awareness Month (2021)
Participated in the 2021 Central Kentucky Heart Walk Digital Experience (2021)
Spoke at Central Kentucky Heart Walk kick-off event (2020)
Spoke at UK Healthcare Heart Walk kick-off event (2020)
Dedicated his 2020 football season to Finn Collier, a seven-year-old who lost his life to heart disease
Volunteered at Brenda Cowan Elementary and Cassidy Elementary (2020)
Horsey is returning to Kentucky for a sixth and final season. He graduated in December 2021 with a degree in communication and is currently working on a master's degree in social work.
Horsey is the second Kentucky Wildcat to be named Pop Warner College Football Player of the Year. In 2018, Kentucky tight end C.J. Conrad won the award after volunteering with the Kentucky Children's Hospital.