Kenny Payne confirms he did NOT win those games
The Louisville fanbase has been injected with optimism this offseason following the addition of Kenny Payne as their next head basketball coach. Never quiet for long, Cards fans quickly returned to typical obnoxious form. The new rallying cry is simple: "Kenny Payne won those games!"
The source of that quote actually comes from Kentucky Sports Radio. Drew Franklin shared a video of Eric Wood and Chris Mack celebrating UofL's first win over Kentucky in approximately 17 tries. Wood screamed, "KENNY PAYNE WON THOSE GAMES," declaring John Calipari would never defeat the Cards ever again.
The video was supposed to just be a joke among friends. After Mack was fired, it turned into a very serious mantra for Louisville fans. How serious? Since their title banner got removed, they're putting up banners whenever they can, including Nolin Lake.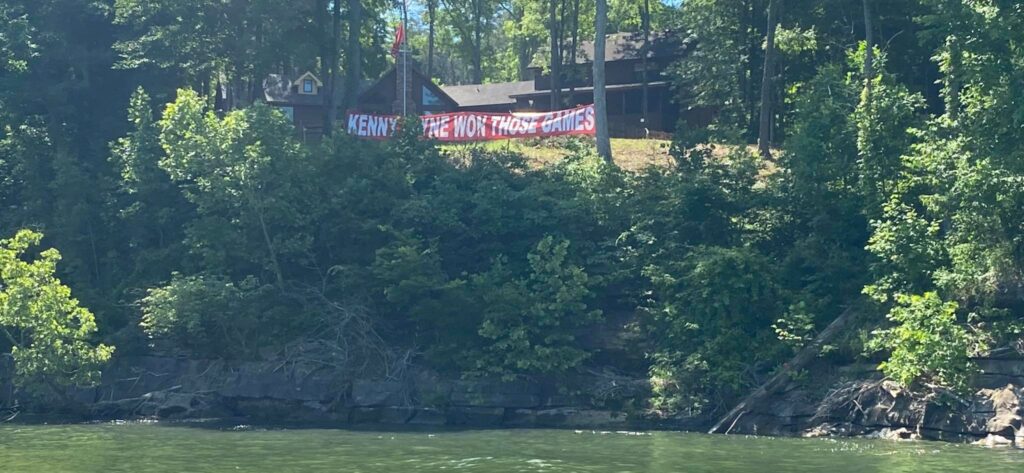 This week the Courier Journal's Brett Dawson finally asked the question all Louisville fans want to know, "Did Kenny Payne actually win those games?" In a shocking twist, the former Kentucky men's basketball assistant coach did not take credit for the 295 wins.
"Players won those games," Payne said smiling. "Coach Cal coached those games."
If you gave a Louisville fan truth serum, they would tell you they don't actually believe KP was responsible for all of Kentucky's success under Calipari. It's a funny line that has a way of sticking it to Kentucky fans after going years without any rivalry ammunition. As Payne put it, for now it's all in good fun. However, the intensity will amplify when the rivalry returns to Rupp Arena on New Year's Eve.
"I know what the rivalry is, I know how intense it can be for the fans," Payne said. "I know that the players really want to beat each other. The coaches really want to beat each other. And it should be fun. It should be an environment where it's competitive. Hopefully we play our best. We know they're gonna play well, and we'll see what happens."
Discuss This Article
Comments have moved.
Join the conversation and talk about this article and all things Kentucky Sports in the new KSR Message Board.
KSBoard