Three expected Kentucky picks go undrafted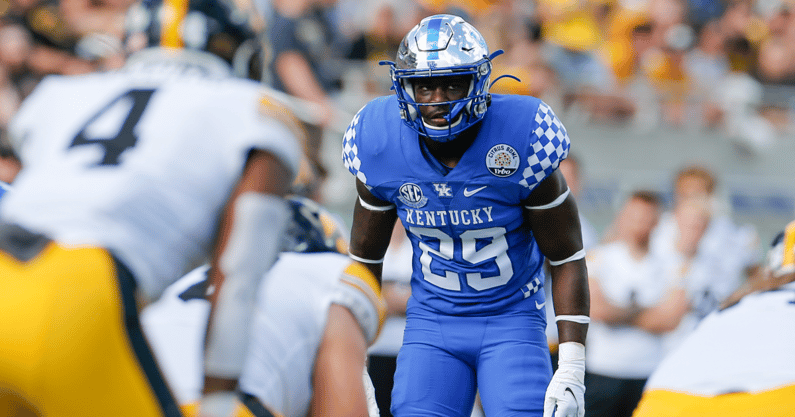 The 2022 NFL Draft had a chance to be a historic one for the Kentucky football program. Day two was excellent with three players going off the board, and Darian Kinnard found a good landing spot on day three. However, the last two rounds didn't break well for a trio of prospects.
Yusuf Corker, Marquan McCall, and Dare Rosenthal were all projected to get their names called out in Las Vegas. Unfortunately, that did not happen on Saturday as each went undrafted.
Corker spent five years at Kentucky and was a three-year starter at free safety for defensive coordinator Brad White. The former four-star recruit recorded 70-plus tackles each year as a starter and has flashed high level football intelligence. Yet, the athletic testing was average across the charts with a lack of interceptions on the field. Now Corker will look to find a place with depth concerns at safety and a need for special teams contributions.
Marquan McCall was a top-200 recruit out of Detroit that came to Kentucky with a high ceiling. The space-eater does not have much pass rush value, but proved to be an effective run stuffer. After backing up Quinton Bohanna, McCall missed time with injury as a senior but was expected to come off the board. The man they call Bully will look for a fit on a team that needs a zero technique.
Dare Rosenthal joined Kentucky as an LSU transfer last summer with high expectations. The former four-star recruit took over the left tackle job and was solid all season for the Wildcats. With athletic tools, Rosenthal has a very high ceiling for a developmental prospect. However, no team spent a pick, and now Rosenthal will look to find a franchise where he can hang around a practice squad and develop his skills.
Expect to see some free agency signings happen quickly.