Kentucky among schools that '23 DE Branden Palmer is prioritizing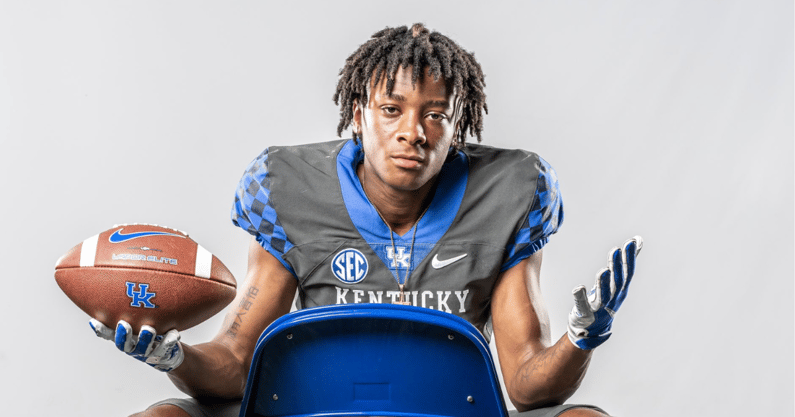 Branden Palmer was one of many 2023 recruits who received a written offer from the Kentucky Wildcats on August 1. He popped up on the coaching staff's radar during a camp opportunity in June, which subsequently led to a verbal scholarship offer. Palmer, who clocks in as a 6-foot-4, 205-pound defensive end, has stayed in touch with the program ever since and expects to take an official visit to Lexington for a game sometime this fall.
Although he's currently unranked by the On3 Consensus, that could change in the near future. He's considered a three-star prospect by the folks over at Rivals. Palmer's recruitment only picked up at the beginning of the year following an impressive junior season at William Amos Hough in Cornelius, NC. He now holds additional offers from the likes of Virginia Tech, West Virginia, Maryland, Miami (OH), Kent State, Central Michigan, and Eastern Carolina, among others.
But as he prepares for his senior season, which begins on Thursday against Dutch Fork High School, Palmer is beginning to widdle down his list of options. He told KSR this week that he's prioritizing a foursome of Kentucky, West Virginia, Virginia Tech, and Eastern Carolina, the latter of which was his first-ever Division I scholarship.
Kentucky and Virginia Tech have only come along over the last couple of months while West Virginia and ECU have been on him since the winter. But that being said, the late interest from UK hasn't hurt the program's chances. Palmer has quickly developed a steady relationship with defensive coordinator Brad White.
"The coach I talk to the most is Coach Brad White," Palmer told KSR. "We have a close relationship, I feel like we're close friends without the football being involved."
At this stage in his recruiting process, Palmer is getting serious. He's not interested in schools that are only half-interested in him. Kentucky appears to be one of the schools consistently reaching out and staying involved.
"What I look for in a school is how well they communicate and if they stand on what they say," Palmer said. "Most coaches like to offer and stop talking to kids and they like to promise one thing then do another."
With a written offer in hand, it's clear that Palmer is a take for Kentucky and that the staff is heavily interested. As of right now, he doesn't have any official visits planned, but he expects to take a few in the fall, one of which will likely be to Kentucky for another trip to the Bluegrass.