Kentucky Among Teams Facing A Logjam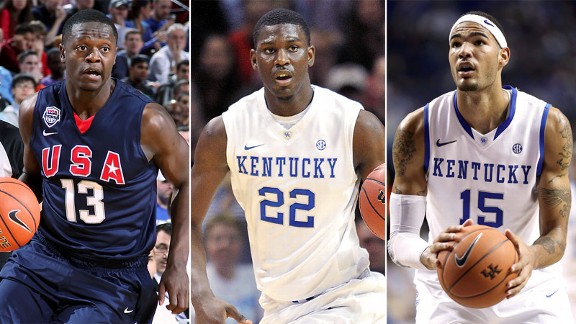 The only problem with signing the greatest recruiting class of all time is finding a way to get all of them on the court. Especially when you have two draft picks who opted to return to school to hone their game. Yes, Kentucky is loaded with depth which is
why Jordan Brennar of ESPN.com named them 0ne the teams facing a logjam this upcoming season
. Here's what Brennar had to say:  
In the NBA, a trade would be imminent. A pack of similarly sized, relatively evenly skilled players is considered leverage at the pro level -- excess at one spot that can fetch help at another. But college basketball, of course, allows no such roster manipulation. And, given the vagaries of recruiting, programs occasionally end up with a glut of talent at a given position. Coaches refer to this as a good problem. They use the numbers game to make practices more competitive and focused. But an abundance of talent can also cause problems, as coaches search for ways to get their best players on the floor together without compromising their system. In the mix: - Willie Cauley-Stein (7-0, 244, So.) - Julius Randle (6-9, 250, Fr.) - Alex Poythress (6-7, 239, So.) - Dakari Johnson (6-10, 260, Fr.) - Marcus Lee (6-9, 200, Fr.) The dilemma: John Calipari's revolving one-and-done door typically has led to top-heavy rosters and short benches. But this season, Kentucky is loaded in the post with five potential first-round picks. Even with Poythress at small forward, there are only 80 minutes available in the post. And two of the four candidates -- Randle and Cauley-Stein -- are simply too good to sit for long stretches.
Most coaches would see having too many guys as a problem however I expect John Calipari will be using this as an opportunity. Last year we saw what happened when Cal didn't have the bench to use as a teaching point. Next year we will see what happens when he has a bench that is completely stacked. With 5 guys worthy of the starting position you know there is going to be a real next one up mentality and if a guy is playing with maximum effort then he will be riding the pine. Also with limited playing time a couple of these guys could end up sticking around for a second or :gasp: third year. Again not a bad thing when the 2014 recruiting class isn't looking like it will be as stellar as these last few. While there is certainly a logjam in the frontcourt that isn't necessarily a bad thing. How do you think it will shake out when the Cats finally tip off this fall?