Kentucky and NCAA Tournament Seeding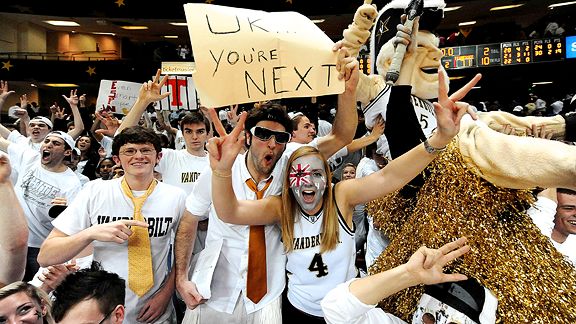 ESPN's Joe Lunardi has released his updated "
Bracketology
" today and Kentucky is still projected as a No. 1 seed. Lundardi has the Cats facing the winner of the play-in game in the East (Syracuse) bracket. The early round games would be played in Milwaukee. The current projection is obvious for the second-ranked Wildcats (25-1). The real question now is what do the Cats need to do to hold on to a top seed. Currently, Lunardi projects his top seeds as UK, Syracuse, Kansas and Purdue. The No. 2 seeds are Villanova, Duke, Kansas State and West Virginia. If I were currently ranking those, I would place Kentucky and Kansas on level 1a and Syracuse at 1b. I think Purdue, although they have won 9 in a row, would be the closest to the next level and Villanova would likely be the top-rated No. 2 seed. Kentucky has been given some "wiggle" room recently with untimely losses by Syracuse and Villanova. Looking at the remaining schedule, I feel pretty confident that Kentucky can afford to lose two remaining games and still be in pretty solid shape for a No. 1 seed. If they lose three games, they will be on the borderline and anything over three would likely send us to the No. 2 seed line.
Remaining Games:
Feb. 20: at #19 Vanderbilt Feb. 25: South Carolina Feb. 27:  at #18 Tennessee Mar. 3:  at Georgia Mar. 7:  Florida TBA:  SEC Tournament I'll be straight with you: tomorrow's game is a potential loss. I want to say that Kentucky will go in an grab an outstanding road victory, but crazy things tend to happen in Memorial Gym - particularly when Vandy has a decent team. I think South Carolina, Florida and Georgia are wins. Tennessee is a 75/25 (W/L) game, just because it's a tough road game. If Kentucky can finish that schedule at 5-0 or 4-1, I think the No. 1 seed is a lock. If they finish at 3-2 or 2-3, they'll need a nice run in the SEC Tournament. Anything else and UK is playing for the No. 2 seed. Do you agree or disagree?