Kentucky Baseball Up to #18 in Top 25 Rankings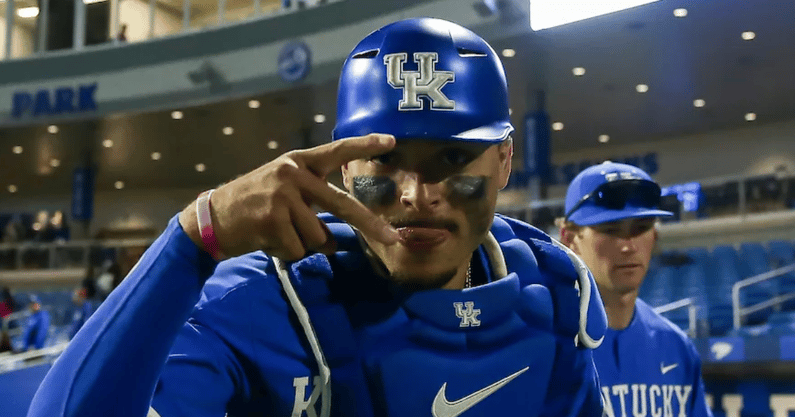 After another impressive week for the Bat 'Cats, Nick Mingione's squad is ranked No. 18 by both D1Baseball and Baseball America. They are also up four spots all the way to No. 1 in RPI. Seven SEC teams are ranked in this week's rankings even after Ole Miss, Texas A&M, and Missouri dropped out of the rankings. It just means more.
Although their 17-game winning streak was snapped on Sunday, the 'Cats still had a successful week. After beating Eastern Kentucky 9-3 on Tuesday, Kentucky traveled to Tuscaloosa for a weekend series against the freshly unranked Alabama Crimson Tide. The 'Cats took both games one and two of the series before dropping game three, 4-3.
Although they lost on Sunday, Kentucky won the series and has won all six of their three-game series this season. The 'Cats have also won their first two conference series for the first time since 2021.
The Wildcats are scoring 8.6 runs per game with an overall .307 batting average. The offensive trio of Émilien Pitre, Devin Burkes, and Hunter Gilliam account for nearly 39% of Kentucky's hits, 49% of RBI, and 59% of home runs. When that trio goes, the 'Cats go. From the mound, UK has a combined 3.00 ERA, with Ryan Hagenow, Jackson Nove, and Mason Moore impressing out of the bullpen this season. In 43 combined innings out of the pen, these guys have allowed just 22 hits, four earned runs allowed, and 58 strikeouts. Strong stuff out of The Hook.
The 'Cats will travel to Bowling Green to take on the Western Kentucky Hilltoppers on Tuesday night at 6:30 p.m. EST before returning home to Kentucky Proud Park later in the week for a weekend series with the Missouri Tigers.