Kentucky Baseball adds 10th transfer to '23 roster in WKU's Jackson Gray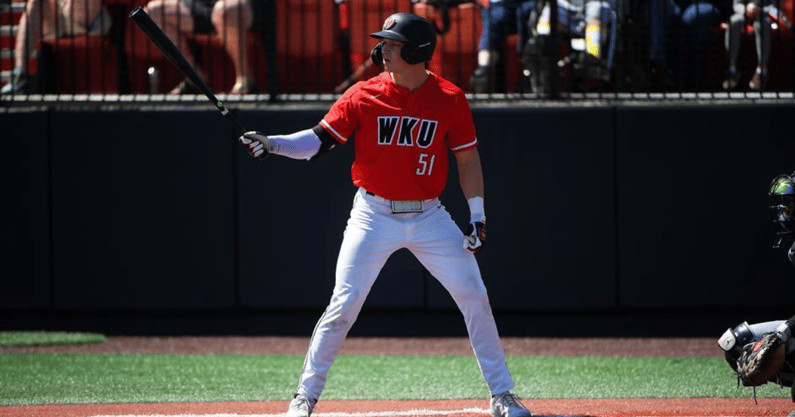 Kentucky baseball head coach Nick Mingione took full advantage of the new one-time transfer rules last offseason, and he's taking the same approach the second time around.
Earlier this month, Western Kentucky outfielder Jackson Gray announced that he will transfer to Kentucky for his final two seasons of college eligibility. The 6-foot-2 native of Wheaton, IL becomes the 10th new transfer portal addition for next year's 2023 roster. Gray was tabbed to the 2021 All-Conference USA Second Team as a sophomore for the Hilltoppers.
Admittedly, Gray's numbers from his sophomore season in 2021 to this past run in 2022 show some significant differences. His batting percentage dropped from .363 to .203 while his slugging percentage dipped to .399 from the previous mark of .592. That being said, a change in scenery for Gray could be exactly what he needs.
Gray began his college career at Washington University (St. Louis) before transferring to WKU for two seasons. He has already played three years of collegiate baseball but will technically have two more due to the extra year granted during the beginning of the COVID-19 pandemic.
The Bat 'Cats are coming off a season in which the program missed the NCAA Tournament after posting an overall record of 33-26 (12-18 in the SEC). Kentucky nearly pulled off the impossible by winning the SEC Tournament but was bested by Tennessee in the semifinals following a surprise run. UK has seen three players from the 2022 roster announce transfers out of the program, but with 10 more coming in for 2023, there should be no shortage of depth.
Kentucky baseball's 2023 transfer portal additions
Seth Chavez (RHP) Eastern Tennessee State
Mason Vinyard (RHP) Western Kentucky
Hayden McGeary (catcher) Colorado Mesa [Divison II]
Ryan Waldschmidt (infielder) Charleston Southern
Grant Smith (infielder) Incarnate Word
Hunter Gilliam (1st baseman) Longwood
Ryder Giles (two-way) Eastern Carolina
Patrick Herrera (2nd baseman) Northwestern
Kendal Ewell (outfielder) Eastern Kentucky
Jackson Gray (outfielder) Western Kentucky