Kentucky Baseball Downs Evansville in Home Opener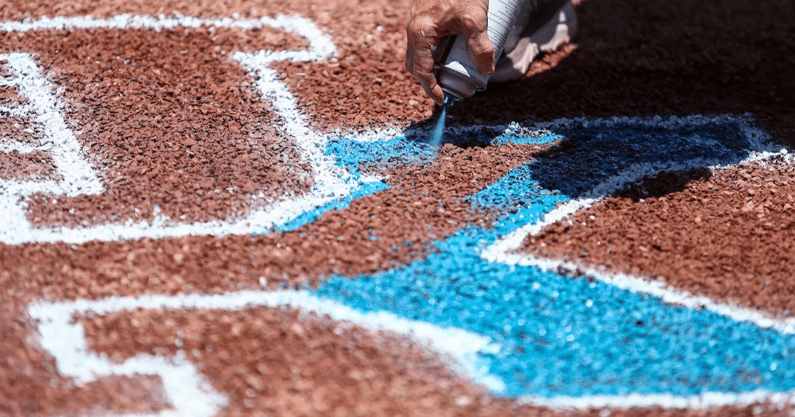 The Kentucky Bat 'Cats took care of business Tuesday afternoon and handled Evansville 6-2 in their home opener. There was excitement in the air at Kentucky Proud Park, but that may have just been for the introduction of beer sales at the University.
Head coach Nick Mingione commented on alcohol sales after the game, saying "Obviously that was an administrative level decision and something that's been talked about for a long time. The fact that it's here and fans are able to do it… I'm just thankful we have fans in the ballpark."
Bring on the beer.
Travis Smith Makes First Start
Starting on the mound for Kentucky was redshirt freshman Travis Smith, making his first-ever collegiate start. The Purple Aces jumped on him early, as a second inning double by catcher Brendan Hord scored Eric Roberts from second base. Through the first two innings, the Aces left four runners on base.
In the bottom of the second, Hunter Gilliam and James McCoy got the offense flowing for the 'Cats. Gilliam hit a line drive to center field that dropped in for a double after Evansville's Ty Rumsey tripped over his feet tracking it down. McCoy would make the Purple Aces pay, as he roped one off the left field wall for a triple, his first of the season. An errant throw down by Evansville's catcher scored McCoy, giving Kentucky their first lead of the game.
Kentucky Offense Begins to Flow
Ryan Waldschmidt opened the third inning with a double. He was initially called out but was later ruled safe upon review. After advancing to third on a pick-off attempt that sailed into center field by Evansville pitcher Shane Harris, Waldschmidt scored after a picture-perfect sacrifice bunt by Jackson Gray.
Smith was pulled following the third inning. In his first-ever collegiate start, he pitched three innings, gave up three hits, one run, and struck out two batters. Not too shabby. He was replaced by Ryder Giles, who gave up one run in the fourth.
The Kentucky offense broke through in the fourth inning, scoring three runs. McCoy got things started with a lead-off double, his second extra-base hit of the day. He was driven in by a single from Chase Stanke.
After making his way to third, a Grant Smith sacrifice bunt scored Stanke for his second RBI of the season. After loading up the bases, Devin Burkes was plunked, driving in one more run for the 'Cats.
Pitching Takes Over
Following the exciting fourth inning, stellar pitching took over this game. Other than one run scored by Evansville in the sixth, both of these offenses completely dried up. Pitchers Zach Hise and Mason Moore saw their first action of the season, combining for just three hits and one error in five innings of relief. Moore tallied his first save of the season after sitting the Purple Aces down in order.
"I thought Mason Moore was fantastic," Coach Mingione said after the game. "He did exactly what he's been doing. A ton of ground balls, a ton of swings and misses, and was able to finish the game for us. Three huge innings."
The offensive player of the game for Kentucky was the redshirt freshman McCoy, who finished 2-4 with a double, a triple, two runs scored and one RBI. McCoy, who had just two hits in his first 13 AB this season, broke through for his first big performance this season. Emilien Pitre was 3-5 with three singles, continuing his recent hot streak. Pitre is 7-10 in his last 10 plate appearances, all singles. Look out for Pitre as an SEC Player of the Week candidate.
Kentucky Baseball will be back in action on Friday when they welcome Wright State to Kentucky Proud Park at 4:00 p.m. EST.