Kentucky Baseball drops first game at South Carolina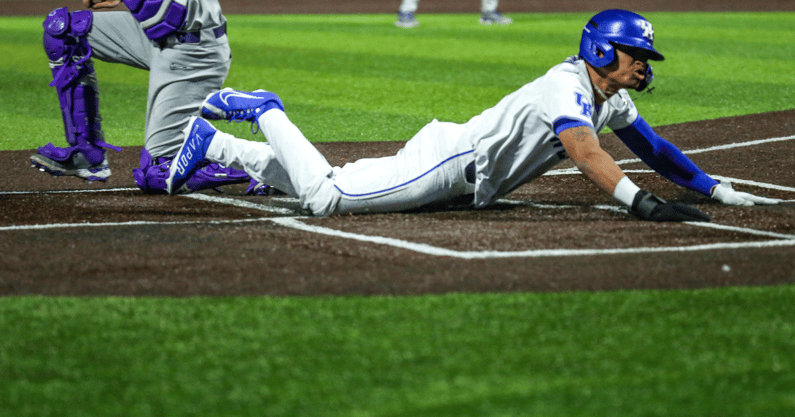 The Kentucky Baseball team's postseason dreams are slipping further and further away. Friday night, the Bat 'Cats lost 11-2 to South Carolina in the first game of their final road series of the 2022 season.
Heading into the game, things were looking up for the 'Cats. Last weekend, they defeated No. 1 Tennessee in Lexington, handing the Vols their first series loss of the season. That effort earned them a spot in the possible postseason discussion, putting them just one game behind South Carolina in the SEC standings
Unfortunately, UK couldn't carry that momentum into this weekend.
Hot bats propel Gamecocks to win over Wildcats:
South Carolina started things off early with a two-out RBI single to center field to take the board first. It was short-lived, though. Kentucky's John Thrasher homered to left field in the top of the second to tie things up at 1-1.
The bottom half of the second got messy, however. South Carolina hit a first-pitch homer to right-center to retake the lead. Starting pitcher Austin Strickland found himself in a bit of a bind after that, forcing Kentucky to make a change. It didn't make much of a difference, though. The Gamecocks hammered three more runs through before junior Zack Lee could finally end the inning, giving them a 5-1 lead.
Kentucky went down in order in the third, giving the Gamecocks a chance to extend their lead — and they did. A single from fifth-year senior Brandt Belk scored Jalen Vasquez, pushing it to 6-1 in favor of South Carolina.
The Wildcats found a bit of a spark in the fourth. Chase Estep hit a single through the right side with two runners on base, sending Thrasher to home plate. Alonzo Rubalcaba attempted to make it there from second base but was called out at home plate to end the inning. The 'Cats entered the bottom of the fourth down 7-2.
South Carolina countered once again in their half of the inning. Andrew Eyster hit a solo homer to left field, making it 8-2. The score would stay there until the bottom of the sixth, when USC managed a three-RBI double to extend it to 11-2.
With things looking bleak, Kentucky head coach Nick Mingione gave redshirt freshman Devin Burkes a shot to hit in the top of the ninth. Burkes hit an RBI double to left-center, scoring Thrasher from third and giving the final score of 11-3. Thrasher accounted for all three of Kentucky's runs.
Saturday's game is scheduled for noon. You can watch live on the SEC Network or listen on the UK Sports Network.