Kentucky baseball is knocking on door for NCAA Tournament bid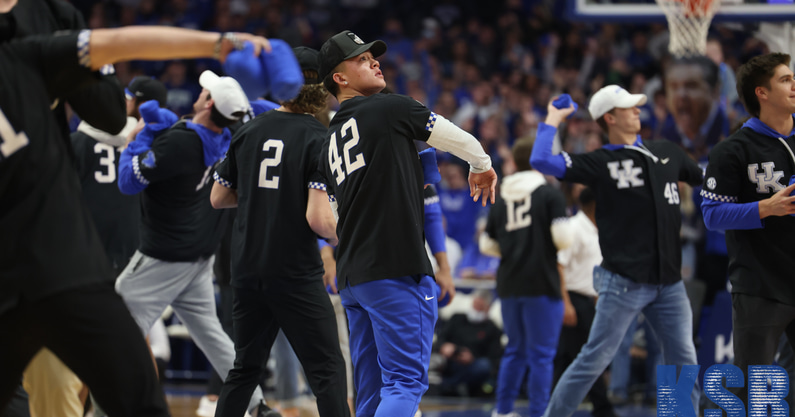 Kentucky was able to extend its stay in Hoover at the SEC Tournament on Friday afternoon with a thoroughly impressive beatdown of Vanderbilt. The Bat Cats have now entered the win or go home section of the tournament.
In game two on Saturday, Kentucky will face LSU once again, but this time in an elimination game as the Tigers were defeated by Tennessee in the winner's bracket late Friday night. Kentucky is working on improving its resume before the field of 64 is announced on Monday. However, Kentucky might not need to win the SEC Tournament to claim the automatic bid.
Baseball America has released an updated tournament field projection and Teddy Cahill says Kentucky is one of the first four teams out of the tournament after Friday night's conference tournament action. Let's take a look at the bubble.
Last Four In: Old Dominion, Ole Miss, UTSA, Dallas Baptist
First Four Out: Alabama, West Virginia, Kentucky, Kennesaw State
Next Four Out: Clemson, Louisiana, Penn, Mercer
To start the SEC Tournament on Saturday, Florida knocked off Alabama as the Tide finished 2-2 in Hoover after the No. 11 seed quickly won a pair of games to start the tournament. That's good news for Kentucky who could potentially leapfrog the Tide with a win on Saturday over LSU.
Kentucky's RPI of No. 53 is severely limiting the Wildcats, but this is a team playing good baseball at the end of the year with huge series wins over Auburn, Tennessee, and TCU. One more win might just be enough to get the Wildcats into the postseason for the first time since 2017.