Triple Play: Kentucky baseball deserves some attention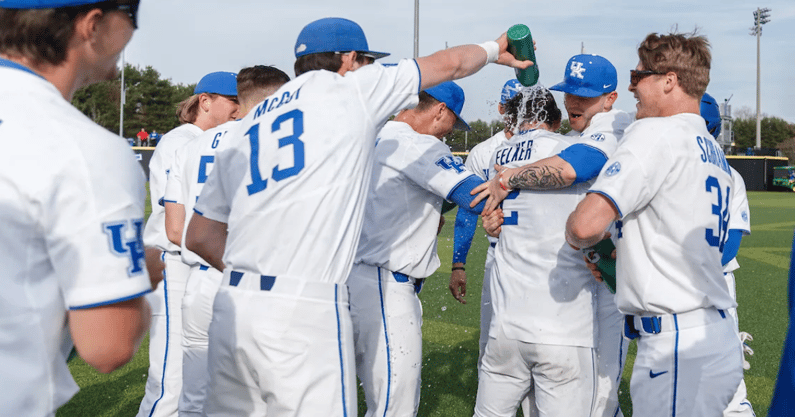 Final Four week has arrived as March officially comes to a close. Spring football is up and running, the NFL Draft is right around the corner, and some important draft/transfer decisions must be made as John Calipari's staff enters roster-building season. However, there is another sport making some big noise on the University of Kentucky campus.
Nick Mingione is in year seven at Kentucky and his baseball program has not made the NCAA Tournament since his first season in 2017. Despite a deep run in the SEC Tournament last May, the Wildcats sat at home thanks to another 5th or worse division finish in the SEC East.
Kentucky is well on its way to breaking that postseason drought in 2023.
After a 2-1 series victory on the road against Alabama this weekend, Kentucky owns a 21-3 (5-1) record and is up to No. 18 in the national polls. The Wildcats are No. 1 in RPI thanks in large part to seven true road victories. With eight more SEC series to go and two mid-week games against Louisville remaining on the schedule, there is a lot of baseball left to be played. However, the Bat Cats have emerged as a real threat in the SEC.
KSR's Triple Play has returned to provide a weekly rundown of what is going on over at Kentucky Proud Park as the baseball season heats up. After 24 games, the good vibes are strong with Mingione's club thanks to timely hitting and balanced pitching.
Experienced pitching staff
Entering this week's mid-week game against WKU on Tuesday, the numbers speak for themselves for Kentucky's pitching staff. Under third-year pitching coach Dan Roszel, the Wildcats are throwing strikes and recording outs.
ERA: 2.89 (No. 9 overall)
Hits allowed per nine innings: 6.31 (No. 6 overall)
Strikeout-to-walk ration: 2.99 (No. 20 overall)
WHIP: 1.07 (No. 6 overall)
Kentucky's pitching staff doesn't record a lot of strikeouts (No. 70 in strikeouts per nine innings) but this staff avoids walks and trusts its defense to record outs. That has helped lead to a bunch of wins early in the season. The show starts with an experienced weekend rotation.
Darren Williams (6-2, 2.39 ERA, 0.85 WHIP, 26.1 innings pitched) is in his sixth year of college baseball and the former EKU transfer is Kentucky's innings eater on Friday nights. Tyler Bosma (3-1, 5.13 ERA, 1.38 WHIP, 26.1 innings pitched) and Zack Lee (3-0, 2.59 ERA, 1.13 WHIP, 24.1 innings pitched) serve as the other two weekend starters. The duo has a combined 60 career starts and provides a steadiness the coaching staff can rely on in high-leverage situations.
There's also experience in the bullpen.
Ryan Hagenow is a former top-100 recruit out of Knoxville (Tenn.) Farragut who has turned into a top relief option after experimenting with starting his first two seasons in Lexington. The right-handed pitcher leads Kentucky's bullpen in appearances (10) and ERA (0.00). Austin Strickland (25.1 strikeouts in 18.1 innings) and Mason Moore (3 saves) are also quality arms that Roszel can utilize.
Why is Kentucky stacking wins? This pitching staff is throwing strikes and owns a bullpen with depth that can get outs late in games.
Transfers are producing
In the offseason, Nick Mingione's staff again went heavy in the transfer portal to find replacements. The Wildcats added four everyday starters in free agency this season and each is performing at the plate.
Hunter Gilliam (1B, Longwood): .404 batting average, 1.150 OPS, 5 home runs, 35 RBI, 17.5% strikeout rate
Jackson Gray (CF, WKU): .353 batting average, 1.070 OPS, 1 home run, 16 RBI, 18.4% strikeout rate
Ryan Waldschmidt (LF, Charleston Southern): .299 batting average, .959 OPS, 2 home runs, 14 RBI, 13.9% strikeout rate
Grant Smith (SS, Incarnate Word): .309 batting average, .764 OPS, 1 home run, 12 RBI, 28.0% strikeout rate
Gilliam has been one of the biggest surprises in the SEC and is giving Kentucky some much-needed pop in the middle of the order. The Cats are also seeing returnees Devin Burkes, Jase Felker, and Emilien Pitre deliver production.
The competition will get stiffer in SEC play, but so far Kentucky has seemed to hit on multiple mid-major transfers and that is giving the pitching staff some run support.
Small ball is winning games
Due to all of the transfers and some lost production from last year, Kentucky entered this season knowing that this team was going to have to be a bit creative. That meant manufacturing offense when players got on base.
Kentucky has been proactive about getting baserunners in motion. The Bat Cats rank No. 6 nationally in sacrifice bunts (20) and No. 37 in steals (37). Mingione's club wants to put pressure on defenses and that has paid off.
Kentucky beat Mississippi State thanks to a wild pitch and scored another run this weekend against Alabama on another bad pitch to help lock up a victory. As competition gets tougher, this lineup could run into some tough outings. Getting aggressive when scoring opportunities present themselves will be key for the Wildcats to have success.
Look for bunts and steals to remain a key part of this team's offensive recipe as Kentucky resumes SEC play this weekend with a home series against Missouri (17-6, 3-3).