Kentucky Baseball Wins First NCAA Tournament Game in Six Years with 4-0 Win Over Ball State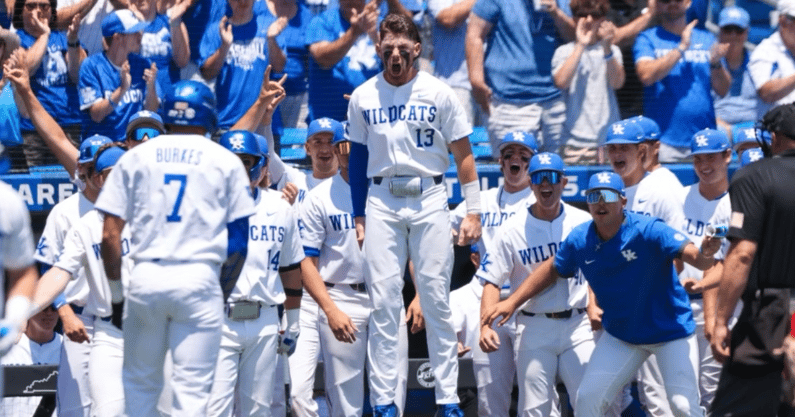 For the first time in six years, the Kentucky Bat 'Cats have won an NCAA Tournament game. For the third time in program history, the Wildcats shut out an opponent in an NCAA Tournament game.
It was a good day to be a Wildcat, as Kentucky baseball blanked Ball State 4-0 in the first round of the Lexington Regional on Friday. They will now wait around to see who wins the nightcap between Indiana and West Virginia, as the 'Cats will face the winner Saturday at 6:00 p.m. EST. [UPDATE: Kentucky will take on Indiana, which beat West Virginia 12-6]
Trennor O'Donnell was sensational for the Cardinals, holding the 'Cats to just three hits in his 7.1 innings on the mound. When he exited, however, the 'Cats scored three insurance runs in the eighth to put this one away. With Mason Moore returning to the mound, this one was all but over. The sophomore was phenomenal in his five innings of relief on Friday, not allowing a hit to any of the 14 batters he faced.
"[Travis Smith and Mason Moore] are really, really talented," UK catcher Devin Burkes said after the game. "I tell them every day that they need to keep working hard. They've got the talent part, they just need to keep working hard and it will all come through."
Pitcher's Duel Early
Nick Mingione refused to give away his starting pitcher any earlier than he had to, so all of Big Blue Nation found out that it would be redshirt freshman Travis Smith just an hour before first pitch. The redshirt freshman made his 13th start of the season.
Smith was Kentucky's go-to midweek starter for most of the season before being inserted into the Friday night, SEC series-opener role later in the season. He struggled in his last two SEC starts of the season, giving up a combined 11 runs over 7.0 innings pitched against Tennessee and Florida.
But Smith was back to form on Friday, as he threw an absolute gem against the Cardinals. Smith lasted just four innings after getting into early pitch count trouble. Those four innings were extremely effective though, as Smith gave up just three hits and no earned runs while striking out four in his time on the mound. Ball State's ace Trennor O'Donnell got the start for the Cardinals and went toe to toe with the No. 12 overall seed in the NCAA Tournament.
Other than the home run surrendered to Devin Burkes, O'Donnell was sensational. The 6'7 senior threw 119 pitches in 7.1 innings on the mound and exited to a standing ovation from Ball State and Kentucky fans when his day ended in the bottom of the eighth. O'Donnell gave it absolutely everything he had in what was possibly the final start of his career. If that is it for "Big Tex", he certainly went out slinging.
Devin Burkes Propels 'Cats to Lead in Fourth
With things deadlocked at 0-0 in the bottom of the fourth, the red-hot Devin Burkes stepped up to bat. Burkes singled in the first inning, which extended his hitting streak to 11 games. With two outs in the inning, Burkes took the sixth pitch of the at-bat deep over the right field wall to put the 'Cats on the board.
"I was just trying to come through for the team," Burkes said after the game. "I had to get on base for the guys because they always come through for me."
Three Run Eighth Inning Seals Win for 'Cats
Burkes' solo shot was all the 'Cats had to show heading in the bottom of the eighth. But after O'Donnell exited with one out in the inning, the floodgates finally opened for the Wildcats.
Jase Felker singled and Burkes drew a walk, putting a quick two runners on with Emilien Pitre up to bat. State's Sam Klein threw back-to-back wild pitches in the dirt, allowing Smith to trot home for Kentucky's second run of the afternoon. Pitre then delivered with a bloop single to center field, driving in two more insurance runs for the 'Cats. Suddenly, Kentucky held a 4-0 lead heading into the final inning.
Mason Moore took over for Travis Smith in the fifth inning and dominated the Ball State offense. In his five innings on the mound, Moore allowed no hits while striking out two batters. Every single inning Moore pitched was three up, three down. Can't get any more efficient than that.
To close things out, Moore struck out Jalen Martinez to give Kentucky their first NCAA Tournament win since 2017 as the large crowd at Kentucky Proud Park rejoiced.
The Bat 'Cats will be back in action tomorrow for their second-round Regional matchup against the winner of West Virginia/Indiana at 6:00 p.m. EST. The Road to Omaha runs begins in Lexington and runs through Baton Rouge.
UPDATE: Indiana beats West Virginia 12-6 to advance to play Kentucky
In the nightcap, Indiana beat West Virginia 12-6 to advance to the winner's bracket to face Kentucky Saturday at 6 p.m. TV information is still TBD. West Virginia will face Ball State in the first game of the day at noon.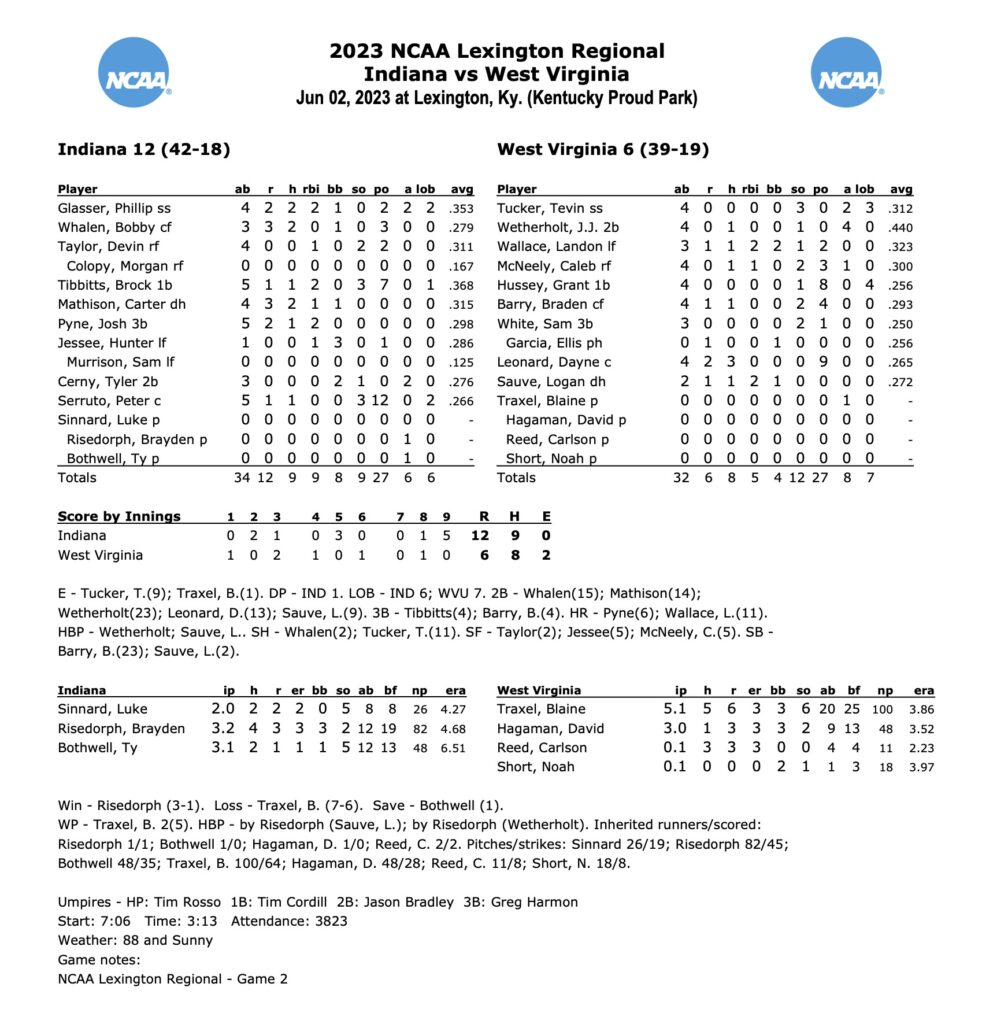 Here's the updated schedule:
Friday, June 2
Game 1 – Kentucky def. Ball State 4-0
Game 2 – Indiana def. West Virginia 12-6
Saturday, June 3
Game 3 – West Virginia vs. Ball State (home team) – Noon – TV TBD 
Game 4 – Kentucky vs. Indiana (home team) – 6 p.m. – TV TBD
Sunday, June 4
Game 5 – Winner Game 3 vs. Loser Game 4 – Noon – TV TBD
Game 6 – Winner Game 5 vs. Winner Game 4 – 6 p.m. – TV TBD
Monday, June 5 (if necessary)
Game 7 – same teams as in Game 6 – TBD – TV TBD
Discuss This Article
Comments have moved.
Join the conversation and talk about this article and all things Kentucky Sports in the new KSR Message Board.
KSBoard