Kentucky Basketball No. 10 in Preseason AP Poll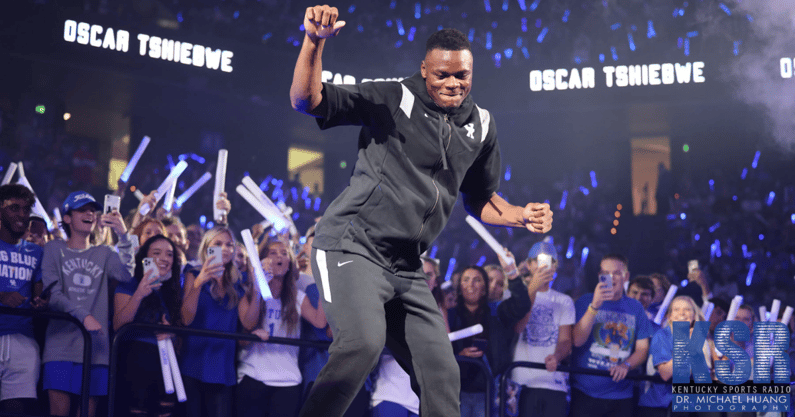 The 2021-22 AP College Basketball Preseason Poll is out and once again, Kentucky Basketball is in the Top 10. The Wildcats are No. 10, in fact, in the poll, the top-ranked team from the SEC. This is the 12th time in the Calipari Era that Kentucky has started the season as a top-ten squad.
Gonzaga is No. 1, UCLA No. 2, Kansas No. 3. Duke, Kentucky's first opponent of the season, is No. 9. Here's where all of the Cats' opponents rank:
Kansas (Jan. 29): No. 3
Duke (Nov. 9): No. 9
Alabama (Feb. 5, Feb. 19): No. 14
Arkansas (Feb. 26): No. 16
Ohio State (Dec. 18): No. 17
Tennessee (Jan. 15, Feb. 15): No. 18
Auburn (Jan. 22): No. 22
Louisville received three votes.
2021-22 AP College Basketball Preseason Poll
| | | | | |
| --- | --- | --- | --- | --- |
| RANK | TEAM | CONFERENCE | POINTS | PV RANK |
| 1 | Gonzaga (0-0) | West Coast | 1,562 (55) | 1 |
| 2 | UCLA (0-0) | Pacific 12 | 1,459 (8) | NR |
| 3 | Kansas (0-0) | Big 12 | 1,427 | 12 |
| 4 | Villanova (0-0) | Big East | 1,332 | 18 |
| 5 | Texas (0-0) | Big 12 | 1,315 | 9 |
| 6 | Michigan (0-0) | Big Ten | 1,255 | 4 |
| 7 | Purdue (0-0) | Big Ten | 1,213 | 20 |
| 8 | Baylor (0-0) | Big 12 | 992 | 3 |
| 9 | Duke (0-0) | Atlantic Coast | 963 | NR |
| 10 | Kentucky (0-0) | Southeastern | 894 | NR |
| 11 | Illinois (0-0) | Big Ten | 861 | 2 |
| 12 | Memphis (0-0) | American Athletic | 831 | NR |
| 13 | Oregon (0-0) | Pacific 12 | 775 | NR |
| 14 | Alabama (0-0) | Southeastern | 713 | 5 |
| 15 | Houston (0-0) | American Athletic | 694 | 6 |
| 16 | Arkansas (0-0) | Southeastern | 673 | 10 |
| 17 | Ohio State (0-0) | Big Ten | 581 | 7 |
| 18 | Tennessee (0-0) | Southeastern | 563 | NR |
| 19 | North Carolina (0-0) | Atlantic Coast | 547 | NR |
| 20 | Florida State (0-0) | Atlantic Coast | 381 | 14 |
| 21 | Maryland (0-0) | Big Ten | 294 | NR |
| 22 | Auburn (0-0) | Southeastern | 267 | NR |
| 23 | St. Bonaventure (0-0) | Atlantic 10 | 238 | NR |
| 24 | Connecticut (0-0) | Big East | 161 | NR |
| 25 | Virginia (0-0) | Atlantic Coast | 125 | 15 |
Others Receiving Votes: Michigan State 87, Indiana 41, USC 30, Arizona 26, Virginia Tech 25, Oklahoma State 25, Xavier 22, Texas Tech 17, Richmond 13, Rutgers 11, Colorado State 11, LSU 7, Belmont 7, San Diego State 5, St. John's 5, Mississippi State 5, Syracuse 5, Drake 4, Colorado 4, BYU 3, Notre Dame 3, Louisville 3
Kentucky Basketball in the AP Poll in the Calipari Era
| | | |
| --- | --- | --- |
| Season | Preseason Rank | Final Rank |
| 2009-10 | 4 | 2 |
| 2010-11 | 11 | 11 |
| 2011-12 | 2 | 1 |
| 2012-13 | 3 | NR |
| 2013-14 | 1 | RV |
| 2014-15 | 1 | 1 |
| 2015-16 | 2 | 10 |
| 2016-17 | 2 | 5 |
| 2017-18 | 5 | 18 |
| 2018-19 | 2 | 7 |
| 2019-20 | 2 | 8 |
| 2020-21 | 10 | NR |
| 2021-22 | 10 | ? |