Throwback Thursday: That Time Kentucky almost lost to Athletes in Action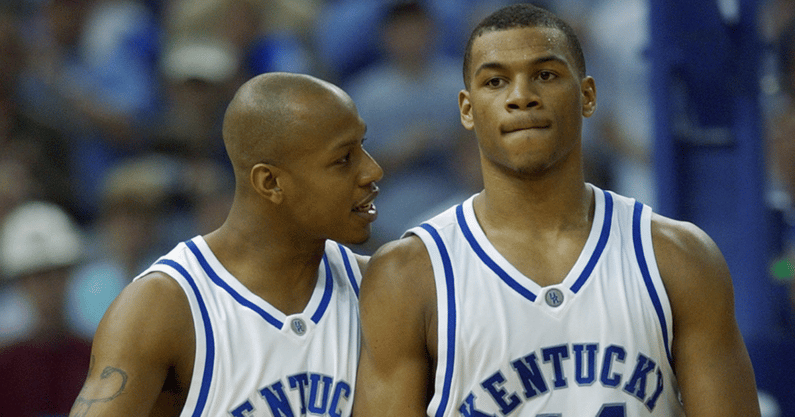 While Kentucky fans enjoy exhibition games against professional basketball teams in the Bahamas, let's hop into the way-back machine to remember a time the Wildcats nearly stumbled in an exhibition against professionals.
Athletes in Action was once a staple on the Kentucky basketball schedule. Before the NCAA permitted Division-I teams from hosting exhibitions against lower-tiered teams (i.e Transylvania, Lindsey Wilson), teams like Athletes in Action regularly made the trip to Rupp Arena. According to Jon Scott of Big Blue History, Athletes in Action played Kentucky nine times between 1991-2002. Comprised of former college stars that didn't make the NBA cut, those games got a little too close for comfort under Tubby Smith's tutelage.
Team Turmoil got off to a rocky start, needing overtime to defeat AIA 88-83 in 2001. The following year it got equally anxious inside the walls of Rupp Arena. The Wildcats actually trailed 82-80 with 2.6 remaining. Needing a bucket, Keith Bogans delivered.
People forget that.
Despite the shaky start, Bogans, Chuck Hayes, Kelenna Azubuike, Gerald Fitch and Marquis Estill rattled off 20-straight wins to cap off the regular season. Tubby Smith's best team at Kentucky became the first to ever finish an SEC basketball season undefeated. The No. 1 overall seed in the NCAA Tournament, the Cats were a Bogans ankle-sprain and a Dwyane Wade triple-double away from reaching the Final Four.
The moral of the story: there's nothing wrong with winning ugly in early exhibitions.