Kentucky's defense has reached low point of John Calipari era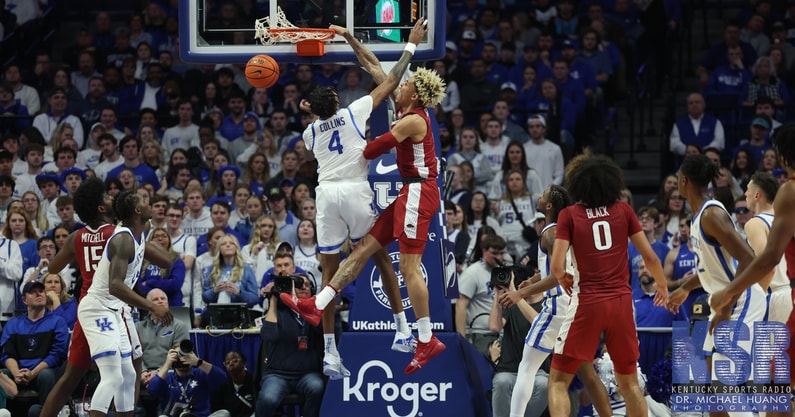 For much of the 2022-23 season and at previous times in the John Calipari era, the offense has been criticized by fans and media. Kentucky's Hall of Fame head coach has often been hesitant to go away from a traditional two-big lineup and embrace the pace-and-space movement that has taken over the NBA and parts of college basketball.
Every summer when the NBA Draft rolls around, there are stories written on how ineffective Kentucky's offense is when handicapping prospects for the next level. However, the results on the court tell us that this basketball program has a bigger problem.
Kentucky finished with a top-10 defense in adjusted efficiency five times in the first 10 years under Calipari, according to KenPom. The Wildcats often had high-level rim protection, were a strong defensive rebounding team, and owned excellent perimeter size that gave opposing offenses issues. Unfortunately, those top-notch defensive results have all but disappeared in the last four seasons.
After Tuesday night's home loss to Arkansas where a sub-50 offense went for 1.28 points per possession while shooting 66.7 percent on two-point field goals, the Wildcats now have their lowest adjusted efficiency ranking of the Calipari era.
Let's take a look at the previous finishes.
2010: 6
2011: 16
2012: 7
2013: 88
2014: 32
2015: 1
2016: 39
2017: 7
2018: 22
2019: 8
2020: 52
2021: 35
2022: 36
2023: 89
As the data shows us, Kentucky has not had a top-25 defense since walking off the court in Kansas City with an overtime loss to Auburn in the 2019 Elite Eight. Over the last four years, Kentucky has gotten smaller on the perimeter. Cason Wallace is the first player since Tyler Herro to be taller than 6-3 in Kentucky's starting backcourt. However, Kentucky made a concerted effort to get bigger on the perimeter this year around Sahvir Wheeler. Unfortunately, the rim protection has also disappeared.
In the first seven seasons under Calipari, Kentucky logged a top-15 finish in block percentage. The entire defensive philosophy utilized by the Wildcats was centered around elite rim protection. However, that has totally disappeared in the last two years.
UK finished No. 69 (11.1%) in block percentage last year and now ranks No. 83 (10.8%) in block percentage through 24 games this season. These are the two lowest marks of the Cal era.
In the transfer portal era, we've seen Calipari tinker with his roster-building philosophy. Kentucky has gone to the waiver wire to find veteran players with good shooting production. However, the older additions have had some clear deficiencies on the defensive end. All of this has added up to equal some poor defensive play.
To end the 2022 season, Kentucky simply could not stop any lead guard and gave up at least 1.0 points per possession in 8 of the final 9 games. Just about every high-usage backcourt player had a big day against the Wildcats. Now we're seeing the interior become the focal point for opposing teams.
Kentucky has given up at least 1.0 points per possession in four consecutive games with bigs at Kansas, Florida, and Arkansas all exceeding their season-average point totals by a good amount. Offenses are hunting out Oscar Tshiebwe on the defensive end and attacking the paint as Kentucky's rim protection is very poor.
This program is a long way away from competing for national titles and it is not due to the offense. Kentucky has been very poor on the defensive end and losses will continue to pile up until this gets fixed.
The Wildcats were always defense first under Calipari but the script has been flipped over the last four years. Kentucky must get back to playing at a high level on that end of the floor.