Kentucky Basketball No. 12 in Dick Vitale's Preseason Rankings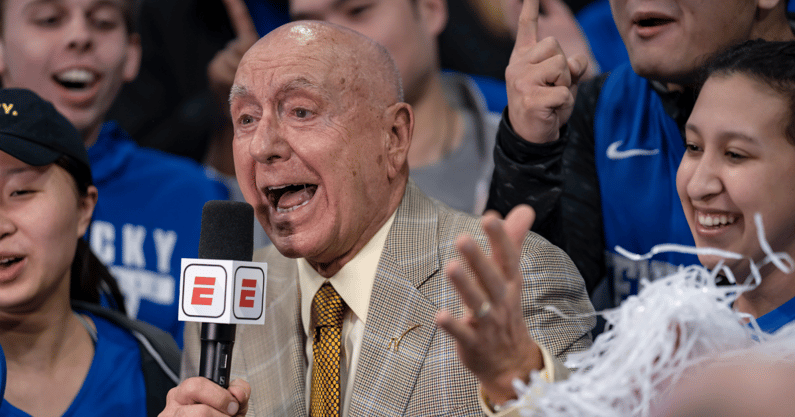 Dick Vitale's enthusiasm for college basketball cannot be stopped. Days after announcing his lymphoma diagnosis, Dickie V is forging ahead with his college hoops coverage, releasing his preseason Top 40 rankings for ESPN this morning. Your University of Kentucky Wildcats are No. 12, one spot behind Duke, the Cats' first opponent, and two spots behind Alabama.
Big Blue Nation had a shocking, disappointing campaign a year ago. This will be a different year as outside shooting has improved and John Calipari added several experienced transfers. CJ Fredrick comes in from Iowa, though he is coming off an injury. Kellan Grady is an experienced scorer in from Davidson. West Virginia transfer Oscar Tshiebwe will provide a physical presence up front. Diaper dandy Ty Ty Washington will be important handling the ball. Veterans Davion Mintz, Keion Brooks Jr., and Dontaie Allen also return.

Dick Vitale, ESPN
Dickie V's top three teams are Gonzaga, UCLA, and Texas. He's very high on Memphis, putting the Tigers at No. 6 thanks to "two of the best diaper dandies," Jalen Duren and Emoni Bates. Memphis is No. 12 in the AP Poll, Kentucky No. 10. Here's where Kentucky's opponents rank in Vitale's Top 25:
Kansas (Jan. 29): No. 5
Alabama (Feb. 5, Feb. 19): No. 10
Duke (Nov. 9): No. 11
Arkansas (Feb. 26): No. 14
LSU (Jan. 4, Feb. 23): No. 19
Ohio State (Dec. 18): No. 20
Auburn (Jan. 22): No. 21
Tennessee (Jan. 15, Feb. 15): No. 22
Notre Dame (Dec. 11): No. 23
You can see the rest at the Worldwide Leader. Speaking of Dickie V, did you see his surgeon is a Kentucky fan?
After the procedure, Vitale released this emotional message to his fans on social media.
You got this, baby!