Tickets on sale now for the Fans First Fan Fest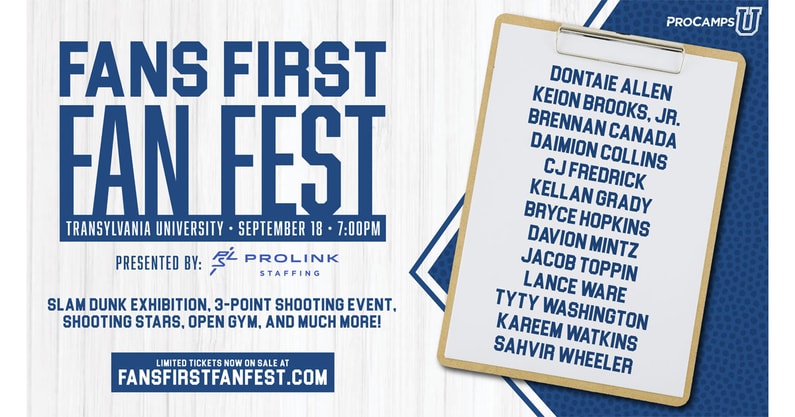 Want your first look at the 2021-22 Kentucky Basketball team? You better act fast. Tickets for the inaugural Fans First Fan Fest are now on sale. The player-driven event, held in conjunction with ProCampsU and KSR, will be held September 18 at Clive M. Beck Event Center at Transylvania University.
TyTy Washington Jr., Daimion Collins, Davion Mintz, Jacob Toppin, CJ Frederick, Keion Brooks Jr., Dontaie Allen, Kellan Grady, Brennan Canada, Kareem Watkins, Sahvir Wheeler, Lance Ware, and Bryce Hopkins will all participate. Doors to the arena will open at 6:00 p.m. and the Fan Fest will begin at 7:00 p.m.  
"An interactive moment with the Big Blue Nation"
Yesterday, Kentucky guard Kellan Grady called in to KSR to preview the event.
"I'm very excited. Confident that our whole team feels the exact same way. I think we're all just excited to be back in front of fans and have an interactive moment with the Big Blue Nation. Just being able to have fun and take part in some contests."
The Fans First Fan Fest will feature a dunk exhibition, 3-point shooting event, shooting stars showcase, and open gym. Celebrity guests will serve as judges and entertainment. Raffles and other fan-centered opportunities and experiences will also be a part of the agenda. 
"I think we're going to play a little 5-on-5 exhibition style," Grady said. "I think it will be a good opportunity for fans to see who can shoot the ball, who can get up a little bit in the dunk exhibition. We'll have a team shooting competition as well. There will also be some opportunities for fans to get involved with some contests. Just a really cool event, obviously new with the realm of NIL right now, being able to put on an event like this. But all in all, I know I'm excited and I know our team feels the same way."
For the 5-on-5 event, team captains (as chosen by KSR) will draft their squads. If Grady got to pick first, which teammate would he take?
"I'd say I'd probably take either TyTy [Washington] or Keion [Brooks]," Grady said. "I think I'd go with TyTy."
Tickets start as low as $15, while supplies last. The Clive M. Beck Center only holds about 1,000 people, so don't wait to secure your seat. For more information and to buy your tickets, visit FansFirstFanFest.com.
A portion of proceeds from the inaugural Fans First Fan Fest presented by ProLink Staffing and all its corresponding events will be donated to local and national charities.