HIGHLIGHTS: Kentucky Basketball Practice in the Big Blue Bahamas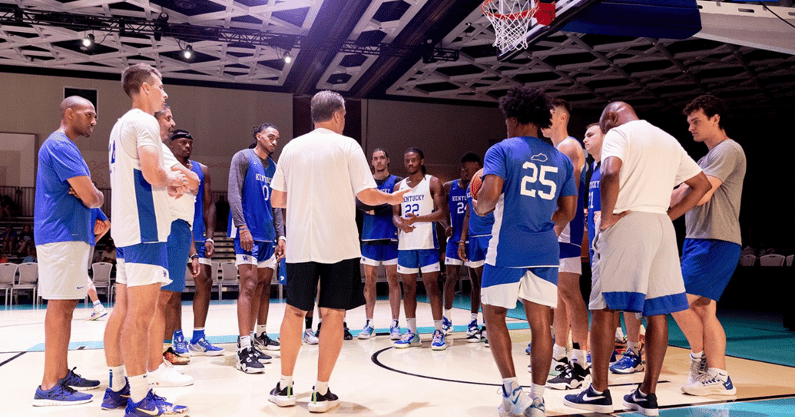 In a race against time, KSR's Jack Pilgrim was victorious. One of two Kentucky Sports Radio representatives attending the Wildcats' excursion to the Big Blue Bahamas, Young Pilgrim's flight landed with less than an hour until the Kentucky basketball team tipped off an open practice. He made it in time to take in all of the action.
Although the internet is hit or miss at the Baha Mar resort, KSR was able to obtain a few impressive highlights from the open practice that was held for the BBN who made the trip to the Caribbean. They were treated to a barrage of three-pointers.
Jacob Toppin showed off his improved jump shot, but he could not keep up with CJ Fredrick. The sharp-shooting Iowa transfer is preparing for his Kentucky basketball debut by making it rain. In a 5-minute shooting drill Fredrick buried 63 three-pointers. Sixty. Three. That's more than one made three-pointer every five seconds. Nuts.
Fredrick was on the money, but he will not be completely unleashed during the Kentucky basketball foreign trip. John Calipari revealed that CJ Fredrick will be on a minutes restriction as he returns from a season-ending injury. Adou Thiero will also be limited as he struggles with growing pains. Yes, growing pains. He's been adding inches to his height ever since he arrived on campus and it's slowing him down in practice. It's not the worst problem for a rising young basketball star.
Let's not waste anymore time. Here is some of the action Jack Pilgrim saw at the Kentucky basketball open practice in the Bahamas.
The real Kentucky basketball action tips-off tomorrow night against the Dominican Republic National Select Team at 7 pm EST on the SEC Network.