Kentucky basketball misses TyTy Washington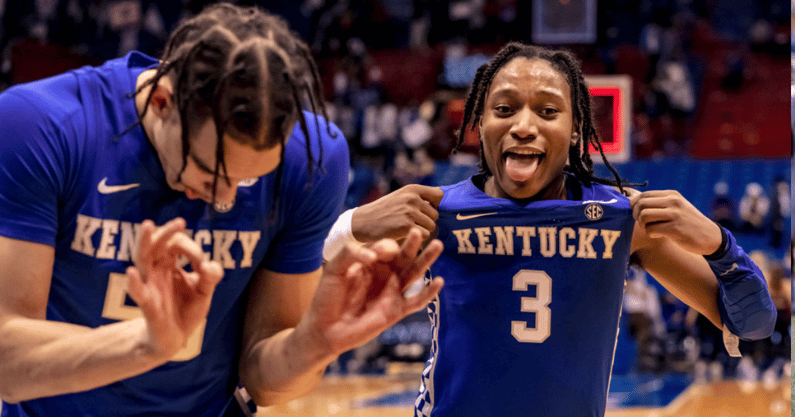 Kentucky's first-round loss to St. Peter's University in last year's NCAA tournament carved a grotesque scar into what was an otherwise beautiful season. Not to casually dismiss the most embarrassing loss in school history, but much of the 2021-22 season was a bastion of success.
At the end of January 2022, Kentucky was 19-4. The only loss experts would consider bad was to Notre Dame, but the other defeats were understandable. They fell to Duke early in the season at the Champions Classic, a ranked LSU team on the road, and #2 Auburn, again away from home.
These losses were counteracted by major wins, including blowouts over eventual National Champion, Kansas, and National Runner-Up, North Carolina.
But perhaps just as important as the team's success, the players were having fun. The fun led to confidence which led to freedom on the court which led to wins. And from this humble outsider's perspective, TyTy Washington had a lot to do with that.
Going into this season, Kentucky looked like they were, at worst, going to be just as good as last year. First, Sahvir Wheeler and Oscar Tshiebwe were returning. Antonio Reeves and CJ Fredrick were the shooters on par, if not better than Davion Mintz and Kellan Grady. The combination of a much-improved Jacob Toppin and McDonald's All-American, Chris Livingston, would most certainly replace Keion Brooks' production. And finally, Cason Wallace was the future lottery pick that replaced first-rounder, TyTy Washington.
To say the least, these projections have not panned out. There are a plethora of deficiencies to which we can point, however, one under-appreciated attribute this team is lacking is what TyTy Washington brought to the table, and I don't mean his ability to consistently beat his man off the dribble.
It's his personality.
TyTy Washington's personality shined brighter than his jump shot
Kentucky fans differ from the rest of college basketball schools in many ways, but one of the most prominent aspects of Big Blue Nation's enthusiasm is the desire to bond with these players on a personal level.
Of course, I mean this in the least creepy way possible.
It is one of the many reasons fans used to get so frustrated with the one-and-done recruiting strategy despite the wins it produced. They wanted to love these players longer than one season. Fans have an affinity for players with big games but are most drawn to those with big personalities. They want to dance alongside John Wall, go to war with DeMarcus Cousins, and wear Jorts' jorts.
Last season, TyTy Washington was that personality. He led the team in the Griddy after every win, asked Tom Brady to come and watch them play in Tampa Bay, and exuded an infectious smile that makes him your grandmother's favorite player.
This year, that same granny wants to smack every player's knuckles with a ruler to get them to sit up straight and quit sulking.
Maybe last year's early-season victories begat the dancing more than the dancing influenced the wins, but the two were inexplicably linked. With Washington leading the effort, the likes of Sahvir Wheeler and Lance Ware were often right behind him hitting the Griddy with the brand of light-hearted exuberance that equated to blasting off a cannon full of confetti at a birthday party.
This year, the only party anyone wants to throw is the pity variety with candles upside down in tepid, moldy icing. Even Kentucky's wins illicit more sighs of relief rather than celebrations. Would a TyTy Washington-style personality fix all of Kentucky's woes? Maybe not, but it would certainly help, and this team seems to be without it.
Kentucky's staff is doing everything they can
Rumors, scuttlebutt, and the eyeballs of anyone who has watched Kentucky play would indicate the disconnect reaches further than a coaching staff that yells more than a post-pandemic Generation Z group of young men care to hear.
KSR OG and Kentucky's Director of Player Development, TJ Beisner, wrote an insightful LinkedIn post highlighting some of these struggles. He said:
"As our season has progressed, we've had some challenges on the court, like all teams do, but we've also had some unique challenges off the court, both as a group and individually. We are utilizing a number of resources to provide support to the team, but this is an area where we want to continue to improve…"

TJ Beisner | LinkedIn
Godspeed to TJ and the rest of the staff. Evolving motivational techniques to match how the current generation best responds is a workplace struggle as old as time. The spotlight on Kentucky basketball makes it that much more challenging.
However, in addition to the professional outside resources designed to lift a group of individuals out of a funk, sometimes you need a peer like TyTy Washington to come in, smile, crack a joke, and lead everyone in a dance. That is something the staff can't do, despite Chin Coleman's best efforts.
Does NIL factor into the team's malcontent?
One of the chief complaints from NIL naysayers was that disproportionate earnings would create schisms between teammates. Jealousy would infect the locker room breeding certain turmoil.
Could inequitable income factor into malcontent? Of course. So can just about everything else. Do you think the autograph line wrapped around the building for Anthony Davis caused Eloy Vargas to sink his head a little bit when he saw just two people at his table?
How much do you think the hoard of groupies following Devin Booker around created jealousy for teammates eager for their car to be licked as well?
The point is, NIL is just one more additional factor in a litany of inequities that every team faces within basketball and life. Do you let the fact that your neighbor makes more money than you affect their invite to your Memorial Day cookout? Well, if their homemade barbeque sauce and cornhole skills are still on point, then I'm guessing not.
This year, though, it is not unreasonable to look at how independent Oscar Tshiebwe seems to be and not think his newfound wealth has something to do with it. What college kid drops into Jeff Ruby's like it is the student center cafeteria? To go back to our hypothetical Kentucky-loving grandmother, she might say it looks like he's getting too big for his britches.
Having said that, TyTy Washington drove a Porche to practice every day last year, and yet the whole team loved him. NIL could be a factor but isn't, by default, bad for collegiate athletics. Good chemistry conquers all, but it often needs a spearhead in the mold of TyTy Washington.
The turning point toward Kentucky basketball's current state
Some folks point to the pandemic as the root cause of Kentucky basketball's recent decline. Others say John Calipari signing a lifetime contract disincentivized him. Still, others blame the departure of key staff members, namely John Robic, DeWayne Peevy, and Kenny Payne.
While all of these almost certainly played a part in the program's fall from grace, Kentucky was a #2 seed last year, and all of the above excuses happened before last season. For a good chunk of basketball games, last year's team was really good.
The turning point was TyTy Washington getting hurt a second time. After that, the team stopped winning but even worse, they stopped dancing.
TyTy's first injury suffered at Auburn didn't help, but he fought back to an early return. Kentucky beat Kansas at Phog Allen Fieldhouse, and his knee was healthy enough to hit the Griddy on the Jayhawk logo.
But after Washington injured that same left leg against Tennessee, something changed. The whole demeanor of the team took a sharp left turn toward gloom-town. You could see it on the players' faces, their body language, and their lack of post-win celebrations.
It was almost as if the injury hurt Washington's soul more than it did his ligaments. It culminated in a downward spiral that saw the team's early exit to Saint Peter's, a catalyst to the downtrodden state where Kentucky basketball currently resides.
This year's team really misses TyTy Washington. Sure, they would benefit from his smooth floaters and step-back 3s (the same ones he is employing at the professional level), but this group could really use the charm he brought that made this game fun.
And at the end of the day, fun is what this is supposed to all be about.