Kentucky Basketball No. 9 in new AP Poll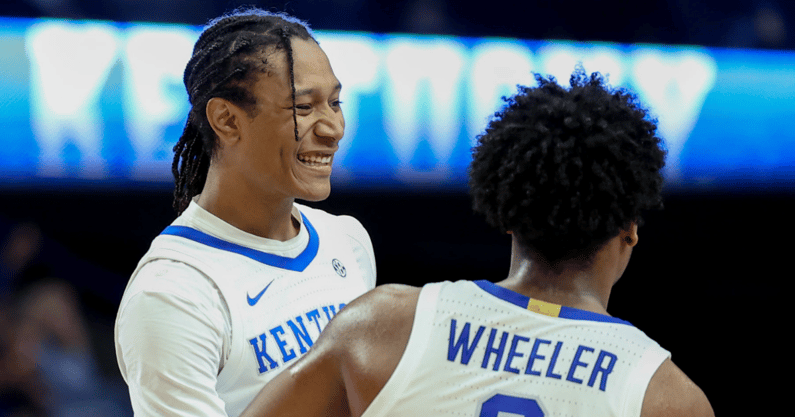 After wins over Albany and North Florida, the Kentucky Basketball team is up one spot in the latest AP Poll. The Cats are No. 9 this week, just behind Kansas and ahead of Arkansas. After beating Gonzaga on Friday night, Duke is the new No. 1 team in the country. Purdue and Gonzaga round out the top three.
In addition to the Blue Devils, six of Kentucky's opponents this season are ranked: Kansas (No. 8), Arkansas (No. 10), Tennessee (No. 13), Florida (No. 14), Alabama (No. 16), Auburn (No. 21). LSU, Ohio State, and Louisville received votes. Kentucky's next game vs. a Top 25 opponent is vs. Tennessee in Lexington on Jan. 15.
Tonight, the Cats take on the Central Michigan Chippewas at 7 p.m. on SEC Network+/ESPN+.
AP Top 25 (November 29)
| | | | |
| --- | --- | --- | --- |
| RANK | TEAM | PV RANK | POINTS |
| 1 | Duke (7-0) | 5 | 1,513 (51) |
| 2 | Purdue (6-0) | 3 | 1,442 (9) |
| 3 | Gonzaga (6-1) | 1 | 1,428 (1) |
| 4 | Baylor (7-0) | 6 | 1,324 |
| 5 | UCLA (6-1) | 2 | 1,253 |
| 6 | Villanova (4-2) | 7 | 1,147 |
| 7 | Texas (4-1) | 8 | 1,115 |
| 8 | Kansas (5-1) | 4 | 1,027 |
| 9 | Kentucky (5-1) | 10 | 1,002 |
| 10 | Arkansas (6-0) | 13 | 960 |
| 11 | Arizona (6-0) | 17 | 851 |
| 12 | BYU (6-0) | 18 | 791 |
| 13 | Tennessee (4-1) | 15 | 730 |
| 14 | Florida (6-0) | 23 | 681 |
| 15 | Houston (5-1) | 12 | 631 |
| 16 | Alabama (6-1) | 10 | 456 |
| 17 | Connecticut (6-1) | 22 | 437 |
| 18 | Memphis (5-1) | 9 | 435 |
| 19 | Iowa State (6-0) | | 403 |
| 20 | USC (6-0) | 24 | 380 |
| 21 | Auburn (5-1) | 19 | 325 |
| 22 | Michigan State (5-2) | | 295 |
| 23 | Wisconsin (5-1) | | 224 |
| 24 | Michigan (4-2) | 20 | 177 |
| 25 | Seton Hall (5-1) | 21 | 151 |
Others Receiving Votes: Illinois 111, St. Bonaventure 106, LSU 93, Ohio State 75, Indiana 63, Colorado State 59, Xavier 46, Texas Tech 34, Marquette 23, North Carolina 9, Iowa 9, San Francisco 7, Loyola Chicago 3, Virginia Tech 3, Louisville 2, Wake Forest 2, Iona 1, Ohio 1