KSR Today: Kentucky Basketball returns with Blue-White scrimmage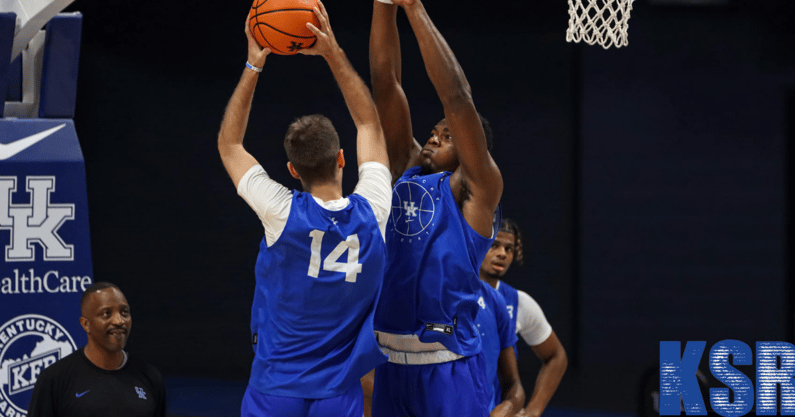 Kentucky basketball is back. The 2021-22 season unofficially tips off Friday night when John Calipari's Wildcats take the hardwood at Rupp Arena for the Blue-White Game. The intrasquad scrimmage begins at 7 pm ET and can be seen on the SEC Network. You can also hear Tom Leach and Mike Pratt call the scrimmage on the UK Sports Network.
Unlike Big Blue Madness, this is not just a show for fans. Players will be going toe-to-toe, competing in live action to prove they belong in the rotation.
"When there's popcorn popping and there's people in the seats, guys seem to play different," Coach Cal said at UK basketball media day.
Will an Injured Wildcat Play?
John Calipari revealed that Iowa transfer CJ Fredrick has still not become a 100% participant in Kentucky's preseason practices. The shooting guard is now doing full contact drills, but is still working through soreness as he gets back into basketball shape following offseason surgery. He has not ruled out playing in tonight's scrimmage.
"I think that's going to be a conversation with the trainer and me, depending on how sore I am the next couple of days," he told KSR's Jack Pilgrim. "I'm going to continue to ramp up. If I feel good, I'll probably go out there for a little bit and play. If I'm still sore and need more time to rehab, I'll take it off.
Scrimmage Tickets still Available
If you don't have Friday night plans, consider seeing your favorite basketball team at Rupp. Tickets are as low as $5 and if you, or your kid has never watched a game from the lower arena, it's only $15 a pop. Get on over to Ticketmaster now to grab your seat to watch the Wildcats up close and personal.
Wan'Dale the Lobbyist
Wan'Dale Robinson is using his platform for more than NIL deals. Kentucky's leading wide receiver joined his father in his hometown of Frankfort to meet with state senate leadership as an advocate for families of the incarcerated. An issue near and dear to his heart, Kyle Tucker detailed Robinson's upbringing and the lessons he learned from his father's mistakes.
No Football? No Problem
It may be a Bye, Bye, Bye for the Kentucky Wildcats, but there's still plenty of ways to get your football fix. Tonight there are four college football games, including a little AACtion. We also have a large slate of football podcasts to provide extensive hours of audio entertainment.
Paschal is Whipping a Porsche
TyTy Washington got all of the attention, but he wasn't the only one who got a new ride this week. Kentucky's Josh Paschal is riding around town in a new car from Blue Grass Motorsport Porsche.
Kroger KSR Game of the Week in Whitesburg
This week's Kroger KSR Game of the Week pits Johnson Central against Letcher County Central. The Golden Eagles offensive line boasts a four-star prospect and Kentucky commit, Grant Bingham. Johnson Central is 6-2, riding a wave of emotion following the passing of head coach Jim Matney.
Other notable games across the state:
Franklin County at Central
North Hardin at Central Hardin
Pikeville at Hazard
Middlesboro at Knott County Central
Bryan Station at Madison Central
Danville at LCA
Manual at Butler @ 7 pm
Western at Doss
Daviess County at Apollo
Warren East at Franklin-Simpson
ALCS Game 6
The Braves could not close out the Dodgers in Game 5 of the NLCS, falling 11-2 in Los Angeles. They'll try to clinch a World Series berth tomorrow evening in Atlanta. The Astros have a chance to clinch the AL pennant tonight against the Red Sox. The first pitch of Game 6 in Houston is set for 8:08 on FS1.
KSR is on the Road
It's Friday, which means Matt Jones and the KSR crew are back on the road. This week they'll be in the heart of Lexington at Boone Contracting, located at 410 S. Broadway. Kick off your weekend the right way, with KSR.