Kentucky is set to begin 5-game gauntlet on Saturday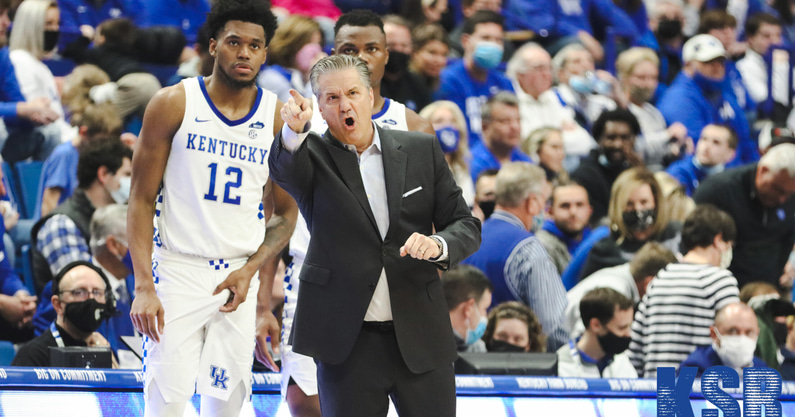 Kentucky's non-conference schedule has taken up a lot of oxygen this basketball season. John Calipari loaded the beginning of the year up with favorable matchups so the Wildcats could build momentum entering SEC play.
That was accomplished, but so far not much is on the resume for Kentucky through 16 games.
The Wildcats head into Saturday with a 13-3 record but have played just four Quadrant 1 games per NET. Kentucky is just 1-3 in those games with losses to Duke, LSU, and Notre Dame. The only win occurred on a neutral floor against North Carolina.
Beginning on Saturday, Kentucky will have five opportunities in a row to add some beef to that tournament resume. Once the month of January ends, Kentucky will have played four more Quadrant 1 games and one more Quadrant 2 game.
Come Groundhog's Day, we will all know where the Kentucky basketball team stands heading into the final stretch of the regular season.
Tennessee rolls into town on Saturday, and the Wildcats have lost consecutive games to the Vols at Rupp Arena. The contest will be Kentucky's first Quadrant 1 game of the season at home.
Following that, Kentucky will hit the road to play a 14-2 Texas A&M squad that is undefeated in SEC play under Buzz Williams and up to No. 48 in NET. The game at Reed Arena on Jan. 19 qualifies as a Quadrant 1 opportunity.
A road trip to red hot Auburn follows before hosting Mississippi State in a Quadrant 2 opportunity at Rupp Arena. The month closes out on the road as Kentucky will face Kansas in Allen Fieldhouse.
Overall, the Wildcats are set to go through a gauntlet over the next two weeks. A lot is still a bit unknown on this team thanks to a NET non-conference strength of schedule that ranks No. 211. However, playing three top-10 teams over a five-game stretch will tell anyone where they are in the pecking order.
Once February rolls in, we'll know exactly where Kentucky stands. You're either elite or you're not.