Kentucky Basketball Stock Report: Fans First Fan Fest Edition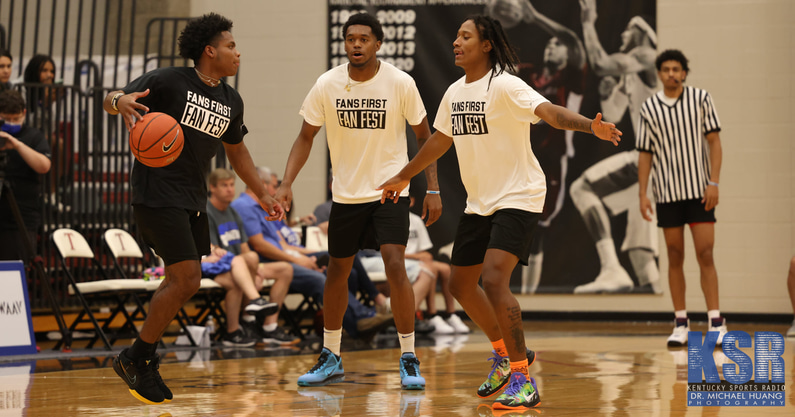 The inaugural Fans First Fan Fest has come and gone, an event that presented Kentucky fans a unique opportunity to see the 2021-22 Wildcats in person for the first time prior to basketball season.
Davion Mintz, Kellan Grady, Keion Brooks Jr., Sahvir Wheeler, Dontaie Allen, Lance Ware, TyTy Washington, Bryce Hopkins, and Daimion Collins all participated in the event held at Transylvania's Clive M. Beck Center, while CJ Fredrick (leg) and Jacob Toppin (shoulder) sat out with injuries. Oscar Tshiebwe was not in attendance due to student Visa restrictions in relation to NIL.
As for the other specifics, the event consisted of a 3-point shootout, dunk contest, shooting stars competition, and a 5-on-5 scrimmage, among other highlights. There were times things got competitive, other times the players were looking to entertain the young fans in attendance cheering on their beloved Wildcats. Some strong takeaways, others that mean next to nothing.
But let's think big picture here. If you combine the meaningful takeaways from Fan Fest with previous practice scoop throughout the offseason, you can start to get a feel for the roster and adjust expectations accordingly.
What do you need to know about the Wildcats? And just how good can they be in 2021-22?
Davion Mintz
With one year under his belt in Lexington, we all know what Mintz can do and what he brings to the table. He was wildly confident with his shot and throwing down highlight dunks at Fan Fest, which is to be expected. His fit alongside Washington and Wheeler has been praised behind the scenes, with the trio of guards building strong chemistry with one another. He showed comfort late in the season as a primary ballhandler, and that has continued to grow this offseason alongside UK's other point guards. He'll split duties at the position while also playing off-ball.
After an adversity-filled year due to COVID-19, Mintz returned for a complete Kentucky experience as a sixth-year senior. He has embraced his status as a fan-favorite and a leader on the team.
Kellan Grady
As mentioned in the first KSR practice report earlier this summer, Grady has been the ultimate veteran leader from the minute he arrived on campus and started working out with the team. One source told KSR at the time it was like bringing a "pro" into practice and the locker room. He brings a business-first mindset to the table on and off the floor, a trait that rubbed off on his teammates rather quickly upon his arrival.
As for what he brings to the table on the floor, he's got a slightly funky release on his shot, but it's consistent and falls. John Calipari has also raved about his versatility as a ballhandler and ability to play the one in spot minutes. He's also an underrated athlete with true leaping ability, something he put on full display at fan fest.
Grady is a professional bucket-getter and is polished at all three levels. It'd be a shock if the Davidson transfer wasn't one of Kentucky's leading scorers this season, if not the leading scorer
Keion Brooks Jr.
Brooks is a player many expected to take a sophomore leap after finding his footing late in his freshman campaign. A leg injury slowed his development last offseason, one that kept him out until SEC play to open the year. He returned midway through the season, but struggled to find consistency to close out his sophomore campaign.
As Jon Rothstein reported last week, there is growing buzz inside the program that Brooks is destined to make a significant jump in year three. He's grown confident as a shooter, and more importantly, his role on the team is carved out and clear. His feel for the game is much improved and his versatility is on full display.
We've seen spurts of brilliance from Brooks in his first two years in Lexington. Going into year three, there is internal optimism that those short spurts will turn into strong, consistent production for the 6-foot-7 forward.
Sahvir Wheeler
There are mixed reviews on the Georgia transfer, a lot of positive, but some areas of concern. As a floor general and playmaker, Wheeler has clearly stood out among his peers at the position. His feel for the game and passing ability has really spread out the floor and opened things up for the offense. He's also looked the part as a defender, a solid bonus.
As for the other aspects of his game, Wheeler didn't arrive in Lexington and magically turn into a knockdown 3-point shooter. He's improved and I believe he'll top the 22.5 percent mark he shot from deep last year, but manage your expectations here. Sloppy play has also been a minor talking point, as Wheeler plays an aggressive, ambitious style of basketball. It comes with great rewards at times, but costly mistakes in others.
Dontaie Allen
Allen's confidence has grown as a shooter, as shown at Fan Fest. He was taking deep threes and turning around to jog the other direction before the ball went through the net on nearly every attempt. Improved point guard play and other shooting help will allow for better looks from three in 2021-22.
Lance Ware
Ware has improved as a mid-range shooter and appears bouncier around the rim, finishing with dunks as opposed to soft lay-ins. After missing some key gimmes last season, that's an obvious improvement.
Like Allen, not a whole lot of individual buzz with Ware. Nothing out-of-this-world great or noteworthy struggles. Strong role players are crucial to every winning team.
TyTy Washington
Positive buzz surrounding TyTy Washington started almost immediately after freshmen arrived on campus in June, with multiple sources telling KSR at the time that the 6-foot-3 guard was scorching the nets with his shooting.
At one point, Washington knocked down 45 of 50 total attempts from three in a shooting drill that focused on dribble combinations leading to shots. He won the Iverson Classic 3-Point Contest in the spring, and then followed it up by winning the Fan Fest 3-Point Contest by knocking down 21/25 attempts from three (26/30 score including moneyball shots).
Beyond his shooting, he's also a comfortable playmaker with strong court vision, patient to make the right play. If anything, he can get too passive at times and look for his teammates too often.
In every game situation I've seen him play in, Washington has been an absolute sniper from three with a dog mentality on both ends of the floor. The same buzz has come out of practice with pickup games and scrimmages.
Put it this way: Mintz selected him with the No. 1 overall pick in the Fan Fest scrimmage, and Grady told KSR leading up to the event that he would have done the same had he earned the first pick. That should tell you all you need to know.
Bryce Hopkins
Looking for another player whose stock has boomed since arriving on campus this offseason? Bryce Hopkins is undoubtedly your guy.
When he signed with the program, strength and conditioning was a point of emphasis for the four-star forward. He had all the skill, but needed to transform his body by cutting some of the baby fat, adding muscle, building endurance, and improving athleticism. He was seen as a long-term piece that would need at least one year of development before turning into a core rotation piece.
It didn't take long before those expectations shifted within the program.
"You guys are overlooking my man Bryce," one strong source told KSR this summer.
Nearly four months in, and the body transformation is clear. He's cut some bad weight and built solid muscle, all while retaining the skill. As a result, the heads are turning.
"Bryce (Hopkins) has come in with a physicalness," Calipari told the media earlier this month. "He's better than I thought. … Good with the ball, gets you on his shoulders."
Behind the scenes, the buzz is even louder.
He can put the ball on the floor, shoots well, is polished in the paint with strong post moves, finishes with authority, rebounds well, runs the floor, and plays hard. He may not be great at anything yet, but he's good at everything. Those type of players find their way onto the floor early and stay there.
Daimion Collins
The jury is still out on the 6-foot-9 forward with elite length and athleticism. Admittedly, reviews were less than impressive to open the summer, with Collins well behind in terms of development. While highlight plays were common and left onlookers dreaming big regarding potential, he was raw and struggled to find himself within the offense. Confidence has always been there that things would click at some point – maybe not this year, but at some point – the only question was when.
After a bit of a slow start, we've seen some positive growth in recent weeks that leads me to believe Collins will be ready to produce this season. Maybe not as a starter or even as one of the first players off the bench, but there will be a role. He found countless easy buckets around the rim during the Fan Fest scrimmage, catching quick lobs and getting some clean-up finishes thanks to his length and athleticism. That's certainly a start and likely where the bulk of his buckets come from to start his bright Kentucky career.
Above all else, long-term optimism within the program is extremely high with Collins. He has the highest ceiling on the team, and it isn't close.
Patience will be necessary, but the reward will be worth the wait.
Jacob Toppin
Sources tell KSR that Toppin is currently out with a minor shoulder injury, one that has kept him out of practice the last several weeks. The injury is not expected to be a long-term issue, but it comes at a crucial time in his development with practice ramping up and the team slowly starting to find its identity. Keep in mind that Brooks and Hopkins have looked phenomenal to close out the summer and open the fall.
Prior to the injury, sources told KSR that Toppin's shot was much improved and his ability to put the ball on the floor and make plays as a versatile forward was night and day from last season. The timing of the injury is tough, but he should be back and ready to go in time for the season.
CJ Fredrick
Fredrick underwent surgery on a preexisting leg injury in July, a procedure that has kept him out of practice the last two months. Despite the long absence, sources tell KSR that the Iowa transfer has begun on-court workouts and his return to practice is close.
Leading up to surgery, Fredrick was just starting to round into form with conditioning and finding his groove in practice. Like Hopkins, the Iowa transfer's first priority upon arrival was to transform his body and let everything else fall into place from there. Surgery was a clear setback, but the return to full strength and game shape is well underway.
Oscar Tshiebwe
We started with Fan Fest participants, then touched on those who were forced to sit out due to injury in Toppin and Fredrick. We'll close with Tshiebwe, who was unable to participate due to student Visa restrictions.
The 6-foot-9 center has his clear strengths, but some obvious weaknesses, as well. The dunks, rebounds, and motor were guarantees the minute he signed with the program. He's also worked on shooting quite a bit this offseason and is looking to incorporate a consistent mid-range jumper to his game.
On the flip side, he's been lost at times learning the offense and he's still raw in the post. You're going to get the effort plays, but the polished post moves and skill-oriented play remain a work in progress.
Serviceable, certainly. He's a double-double waiting to happen. Now the focus is on helping him take that next step forward.