Kentucky Holds On To Complete 64-58 Comeback Win Over Texas A&M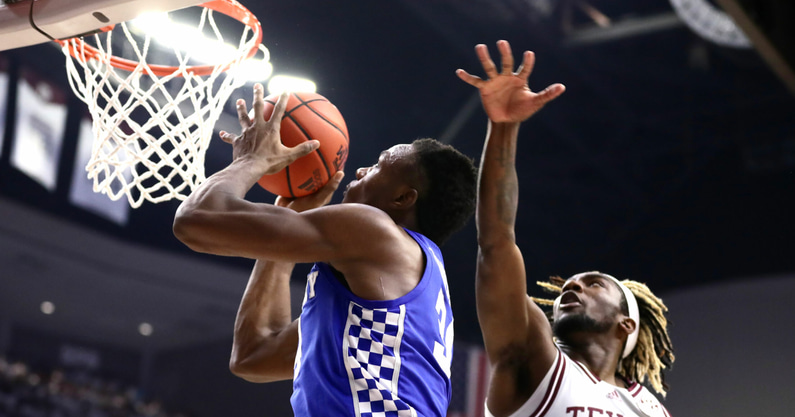 A sloppy offensive start could not derail the Wildcats in College Station. Kentucky rallied from a 13-point first half deficit to hang on for a 64-58 win over Texas A&M.
Previously undefeated in SEC play, the Aggies' initial blitz prepared Kentucky to withstand the raucous crowd in the closing minutes of the game. Down three, a wild Texas A&M three-point attempt clanked hard off the iron and the Cats buried a couple a free throw to close out the Kentucky victory.
Forgettable First Half Performance
Whatever happened against Tennessee, tonight's slow start by the Wildcats was the exact opposite. Just like Rupp, Reed Arena was rocking. Unlike the Cats, the Aggies built up a big lead with defense, rather than offense, using a halfcourt trap to confuse Kentucky and force turnovers.
Kentucky started the game in College Station shooting 3-of-14 from the field. Kellan Grady got cold and UK missed its first nine three-pointers. Two quick fouls by TyTy Washington only made matters worse. The Wildcats fell behind by 13 points.
A pair of lengthy scoring droughts combined for eight minutes without points for the UK offense. Kentucky made only 50% of its free throw attempts and 1-of-11 three pointers, yet a late run pulled UK within five by intermission.
Kentucky's Second Half Surge
Kentucky did not relinquish momentum in the halftime locker room. After ending the first half on an 8-2 run, UK scored the first five points of the second half to tie the ball game.
The SEC Network broadcasting crew continually reminded the audience that Grady was struggling to maintain his title as the SEC's leading three-point shooter. He was not deterred. After his missing his first five from long-range, Grady netted his sixth long-ball to pull Kentucky within two. Kentucky kept it close until the Aggies went on a scoring drought, missing seven straight field goals. A&M shot just 1-of-22 from three-point land. Grady followed his next miss from three, went behind the back and finished at the rim to give Kentucky its first lead of the game with nine minutes to play. An exciting, back and forth affair ensued.
Sahvir Wheeler Struggles
Playing just 90 miles from his hometown of Houston, Sahvir Wheeler returned to the school he was once committed to for two years. In his first trip to College Station as a true freshman at Georgia, he committed seven turnovers. Struggling against A&M's length, Wednesday night he set a new career-high with eight turnovers, yet led Kentucky in scoring with 12 points.
Late Missed Opportunity
Kentucky led by four and had a chance to extend that lead to six with just over three minutes remaining. The Wildcats had a four-two advantage in transition with Washington leading the break. He took it himself and had his shot blocked from behind. Moments later he missed a jumper, yet A&M gave it right back back to Jacob Toppin. The third time was not the charm and UK left the possession empty-handed. Oh course, A&M scored on the following possession to cut it to two.
The Big Blue Nation held its breath until the very end.
Box Score